Stained Glass: Beauty that endures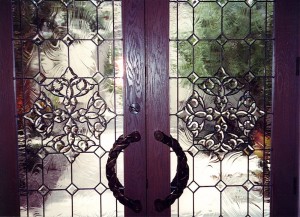 When Sans Soucie first began in 1976, the original primary medium was stained glass. Creating custom partitions and lamp shades for various establishments such as Rusty Pelican restaurants, stained glass was back then and remains today to be very popular and beautiful choice for many product applications and types of projects.
Windows and door glass are of course the most popular products, but another would be custom cabinet glass.  As with our etched glass designs, any design is possible and of course there are thousands of glass colors and almost limitless textures that can be implemented.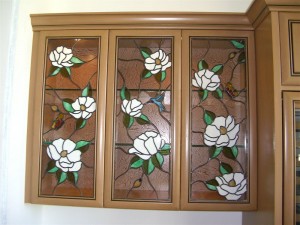 Beveled glass remains one of the most beautiful looks and effects for stained and leaded glass pieces.  Much like diamonds, that beautiful faceted, prism effect will never go out of style and are used inside both traditional or contemporary designs.
When leaded or stained glass panels are used for an exterior application (for a window or door), most often, the decorative panel is sealed in between two layers of glass, a "triple pane" unit, providing ultimate protection from the elements outside as well as easy cleaning and maintenance.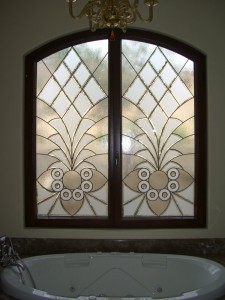 Visit our Stained Glass Gallery to view dozens of stunning  pieces created over the years.