Shower in Illuminated Art: Custom shower enclosures
Over the last 33 years, Sans Soucie has created incredible custom designed etched and carved glass frameless shower doors and shower enclosures inside hundreds of luxury, custom homes.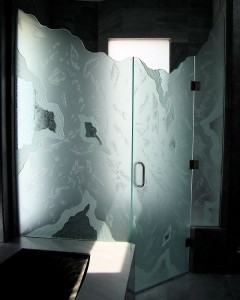 Our etched and carved glass designs on shower glass instantly turn an ordinary, plain glass shower enclosure into an illuminated work of art that you will enjoy not only each time you step into the shower, but every time you enter your bathroom!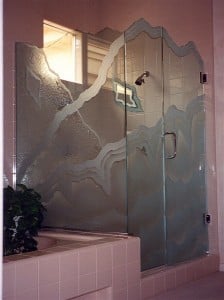 As with all our products, the design possibilities are limitless and so are the applications. One design option is to merely "trim" or "frame" your shower glass. Adding a beautiful etched and/or carved and painted border, for example, adds a beautiful custom touch. We can also target certain areas of your shower glass where you may want to create privacy or obscurity, such as the center sections, or lower section, running up into the center, while leaving the top area clear, allows for visibility in to the shower (allowing you to admire your tile work), which at the same will allow you to "see out" from inside the shower, creating a completely open feel as you stand in your shower.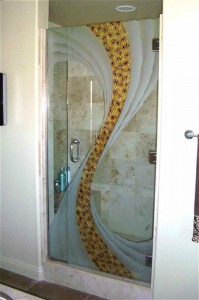 Adding one of our custom edges to the exposed, top edges of the glass is a fantastic application as well. Sans Soucie creates a large number of custom edge designs, ranging from a simple chiseled edge, to waves and various textures.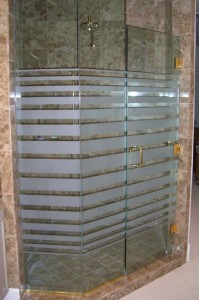 Visit our Custom Shower Enclosure gallery to see dozens of sample showers of all shapes, sizes and configurations. We also create free standing dividers for showers and baths.