Abstract Hills Wall Partition Glass
This beautiful 3-panel wall divider glass, pony wall partition was finished and installed this week inside a Medical Professional Building in Whittier, California.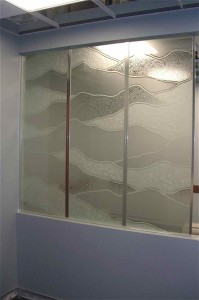 Contracted by interior design firm "Living Concepts, A Design Studio" of Seal Beach, California, Sans Soucie Art Glass installed the 3 panels measuring 23″ wide x 65-1/2″ tall, 3/8″ thick, clear tempered glass that were encased inside 3/4″ chrome finish U Channel, on top of a pony wall.
The Sans Soucie design "Abstract Hills" was chosen, which features a beautiful selection of different textures and design elements, requiring several different techniques. The glass is surface etched as well as sculpture carved with bands and an abstract random texture that has small chunks or formations. Other sections were gluechipped sections and solid frosted. The panels will not only provide a beautiful and interesting custom glass element to the area, but the textures and finishes that were applied, also obscure the glass, providing privacy.