New Entry Door Glass for Historic Home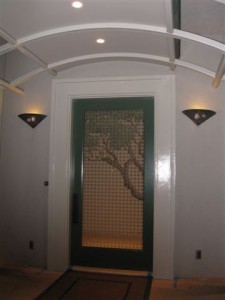 Last week we installed a new entry door glass panel into a home that is not only beautiful, but also has a wonderful, unique history, owned by a delightful couple, Harold & Dorothy Meyerman.
As we talk about on our web site, we count ourselves incredibly fortunate to be in the business we are in, that gives us opportunities to meet and get to know some amazing people, who commission us for glass in their incredible homes! This client was no exception! From the moment Harold & Dorothy entered our showroom, we enjoyed working with them, planning and designing their glass. We also soon discovered that their home was not only beautiful, but had an interesting history.
The home is located in the Oak Knoll area of Pasadena, near the Langham Hotel. The architect was H. Roy Kelly, reasonably well known in his day. He was a student of Mies van der Rohe. The 1950's style home was featured in a 1949 issue of Architectural Digest that Harold & Dorothy have. Dana Smith was its first owner and the Meyerman's purchased the home from him. Dana chaired President Nixon's early campaigns including the one which led to the President's "Checkers" speech. The Meyerman's have done significant updates over the years, much with the approval of Mr. Kelly, who last saw the home at the age of 98.
The new door glass is installed into the wide front entry door and measures approx. 36″ x 79″ and is 1/2″ thick, clear tempered glass.
The design selected is a pattern of 1″ squares, set 1″ apart, that are 3-dimensionally sculpture carved into the inside surface of the glass, providing a very stream-lined, contemporary feel, in keeping with the sleek lines of the 1950's style architecture. The background area is clear glass, which allows for visibility through the glass, into the entry area of the home, where directly opposite of the front door, is a beautiful mural commissioned in 1996, which can now be seen through the glass, as you enter the driveway and approach the home, which was not previously visible thru the original, solid door.
We're proud to have a piece of our work as a part of this beautiful, historic home, and are grateful to have
met and worked with Harold & Dorothy!
We invite you to read their comments about the new glass on our Testimonials Page!