The Top 10 Decor Styles for Kitchen Pantry Doors in 2023
Are you looking to revamp your kitchen and elevate its style in 2023? With an array of frosted glass pantry door decor styles available, it's an exciting time to breathe new life into your kitchen. Get ready to uncover "the top 10 decor styles in America in 2023" for kitchen pantry doors, offering unique design ideas that cater to various tastes and preferences.
Key Takeaways
Modern pantry doors feature minimalistic designs with pops of color, curves and sustainable elements.
Transitional design incorporates modern details, neutral palette and natural materials for timeless elegance.
Modern Pantry Doors
As one of the top interior design trends in 2023, modern decor style for pantry doors features clean lines, minimalism, and neutral colors with a focus on functionality and simplicity. Embracing the natural world, designers recommend incorporating pops of bright color, along with saturated wall colors, particularly in blue. Warming and earthy colors such as pale pinks, soft yellows, and cozy browns, blues, greens, and reds are also suggested by interior designers.
Materials like frosted glass and wood are commonly employed in modern pantry doors, showcasing the latest interior design trends. Natural light also plays a significant role in these designs, with a heightened emphasis on maximizing it through large, exposed windows, light colors, and reflective surfaces. This not only enhances the aesthetics, but also improves our sleep patterns, attention span, and psychological well-being while helping us synthesize vitamin D.
Farmhouse Style Pantry Doors
Farmhouse pantry doors incorporate rustic elements, natural materials, and warm colors, contributing to a cozy and inviting kitchen atmosphere. Common materials used in farmhouse pantry doors include:
MDF
Reclaimed wood
Unfinished wood
Knotty alder
Maple
Oak
Pine
All of these materials are essential aspects of interior design, and a skilled interior designer knows how to utilize them effectively.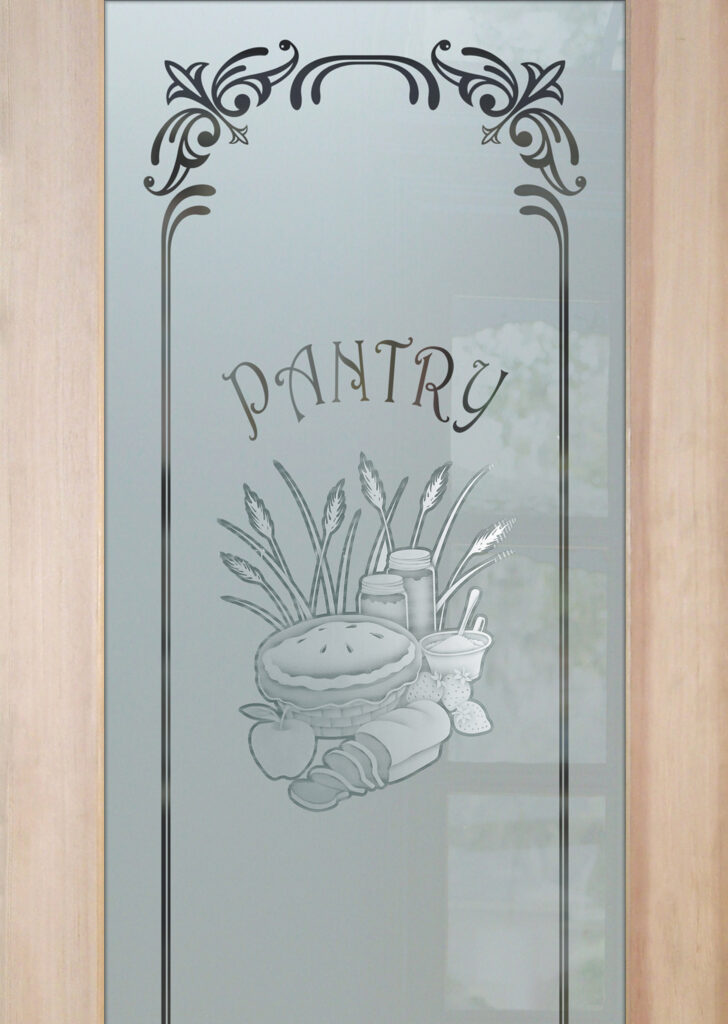 When choosing to incorporate glass pantry doors, here are some elements commonly associated with farmhouse design:
Nature-Inspired Motifs: Such as floral patterns, botanical illustrations, or farm animals like chickens or roosters. These motifs create a rustic, countryside atmosphere.
Traditional or Classic Patterns: Such as gingham, toile, or plaid can be incorporated into frosted glass pantry doors for a farmhouse look.
Simple Geometric Patterns: While farmhouse style tends to be more traditional, simple geometric patterns like checkerboards or stripes can also work well.
Country Scenes: With country scenes, such as landscapes, rolling hills, or farmhouses, can capture the essence of rural living and complement the farmhouse aesthetic.
In 2023, weathered or distressed finishes, and raw wood looks are some of the most popular designs for farmhouse pantry doors, showcasing a traditional style. These doors typically feature warm hues, such as grays, subtle greens, along with architectural details that add to their rustic charm.
These pantry doors can enhance a kitchen's style, contributing to a sophisticated and homely aesthetic. They offer an attractive visual appeal while providing practical storage solutions. To maintain the rustic elements in farmhouse interior doors, consider blending classic elements with modern functionality.
Traditional
The traditional decor style for pantry doors highlights classic designs, ornate details, and rich wood tones, invoking timeless elegance inspired by nature. Materials typically used in traditional pantry doors include solid wood, solid-core, composite materials, medium-density fiberboard (MDF), or glass, which can complement the design of a dining room and other areas of the home.
When seeking out traditional designs for your frosted glass pantry doors, you'll want to look for:
Classic motifs
Ornate patterns
Beveled edges
Stained glass designs (with a classic touch)
Elegant wood types to match the timeless and sophisticated look of your traditional kitchen.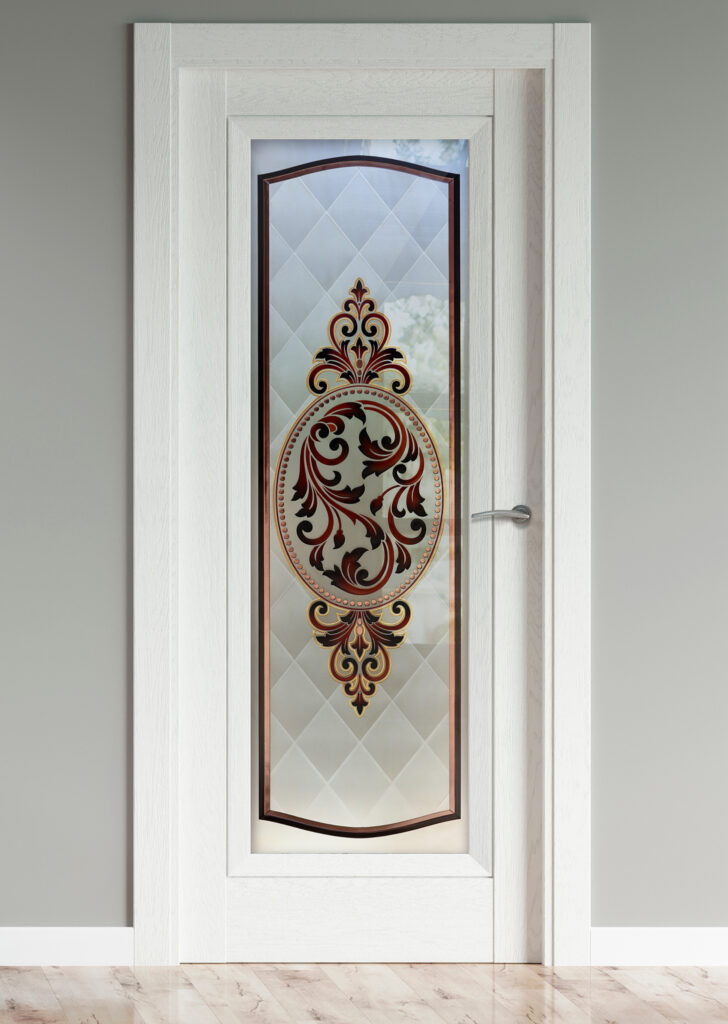 Antique doors with a vintage design, such as French doors, can also be used to give the pantry an air of elegance. For more ideas, you can explore other submit related articles on pantry door designs.
The traditional decor style is indeed gaining popularity, and can be combined with other design elements like curved furniture to create a unique and elegant look in your kitchen.
Transitional Pantry Doors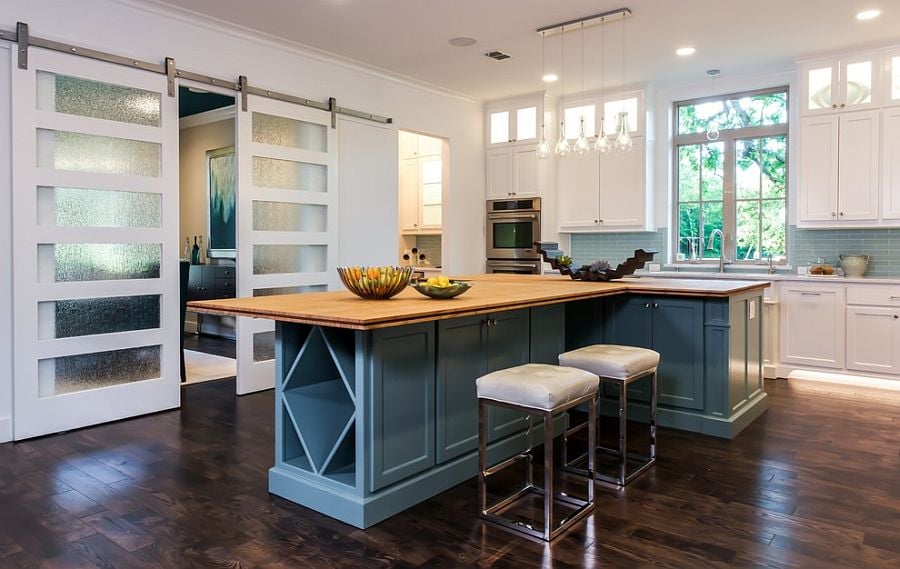 Transitional pantry doors merge traditional and modern styles, providing a balanced and harmonious interior design catering to diverse tastes. This popular choice features:
Sleek cabinetry and hardware
Minimal accents
A neutral palette
Natural surfaces
All in line with the top interior design trends 2023, taking center stage in the industry.
Transitional pantry door designs generally utilize a blend of natural materials such as glass, wood and stone, complemented by modern elements, which are part of the design trends for 2023. The outcome is a versatile and timeless appeal that can blend seamlessly with any kitchen theme.
Coastal Style Pantry Doors
Coastal frosted glass pantry doors designs that feature beach and oceanic scenes, nautical motifs, and tropical vegetation, are what you'll want to look for when looking to create a seaside-inspired ambiance. The use of frosted glass in pantry doors is popular in coastal design, allowing for a bright and airy feel. This style also includes light and breezy colors, natural materials, and beach-inspired elements, fostering a relaxed and refreshing vibe in the kitchen.
For coastal interior design in 2023, non-white colors, such as soft sage, deep emerald, and greens, are likely to be popular. Coastal pantry door designs commonly utilize natural materials such as:
This results in a serene and inviting atmosphere that transports you to a beachside oasis.
Contemporary Pantry Doors
Contemporary pantry doors emphasize sleek lines, bold colors, and innovative materials, mirroring current interior design trends and preferences. Popular colors for contemporary these interior doors, as suggested by creative directors in the design industry, include:
Navy blue
Gray
Lush greens
Pale sage
Yellow ochre
Contemporary pantry doors feature a variety of characteristics and materials, such as:
Sliding doors that offer both functionality and aesthetics
Wooden doors with timeless designs
Pocket doors for space-saving purposes
Doors made from natural materials like glass, wood, stone, and concrete, all with a contemporary twist.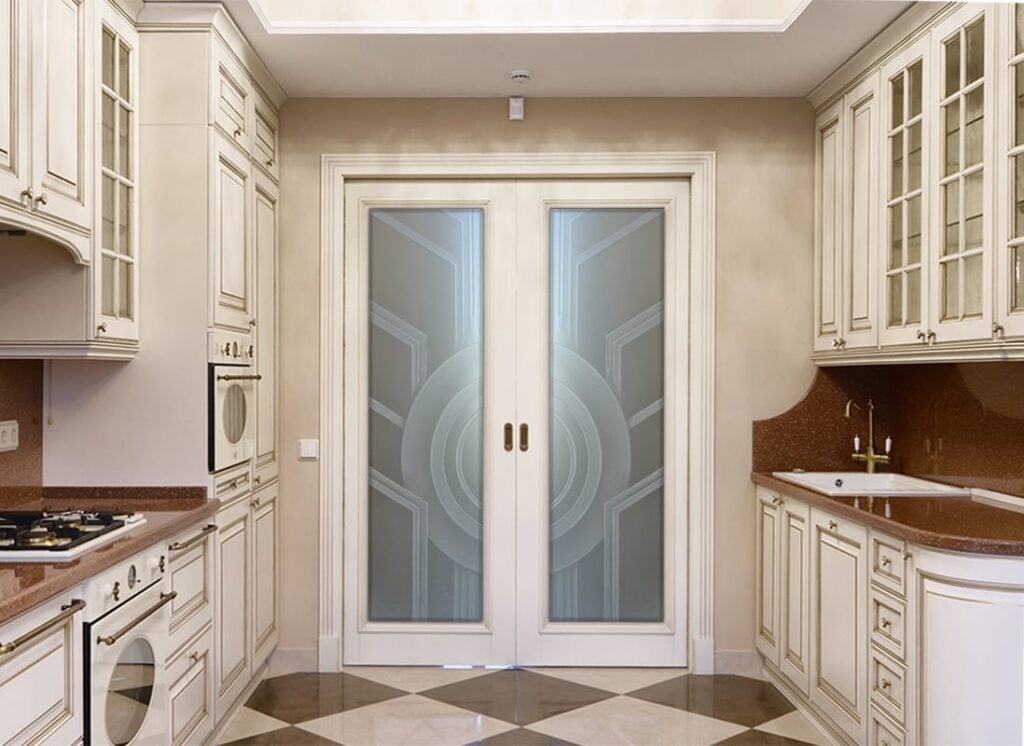 Design trends showcased in contemporary pantry doors in 2023 include:
Bold colors that can complement an accent wall
Frosted glass with patterns: Geometric patterns, abstract art, and minimalist lines, just to know a few.
Customized designs
Solid wood
Invisible doors
Nature's motifs
Glass inserts
Sliding doors
These interior design choices, often guided by a creative director, are popular for creating a chic and modern aesthetic.
wood
straw
seagrass
driftwood
Industrial
Industrial design style is a distinctive and urban-inspired approach to interior design that draws its inspiration from old factories, warehouses, and industrial spaces. For industrial-style enthusiasts you'll be looking for frosted glass pantry doors with wood or metal frames, exposed hardware, and an overall raw and utilitarian appearance that complements your industrial kitchen designs. Here are some of following features:
Raw materials
Visible hardware
Utilitarian aesthetic
Textural contrast with a blend of wood and metal elements
Traditional swing doors made of wood or high-end steel and glass
Door handles with metallic and material finishes such as brass or wrought iron
These features contribute an edgy and urban touch to the kitchen.
Materials commonly used in industrial pantry doors include:
Glass
Metal
Aluminum
Steel
Wood
Raw bricks
Exposed hardware, such as box rail hardware or barn door hardware, is commonly utilized in industrial pantry door designs. This adds a unique and rugged appeal.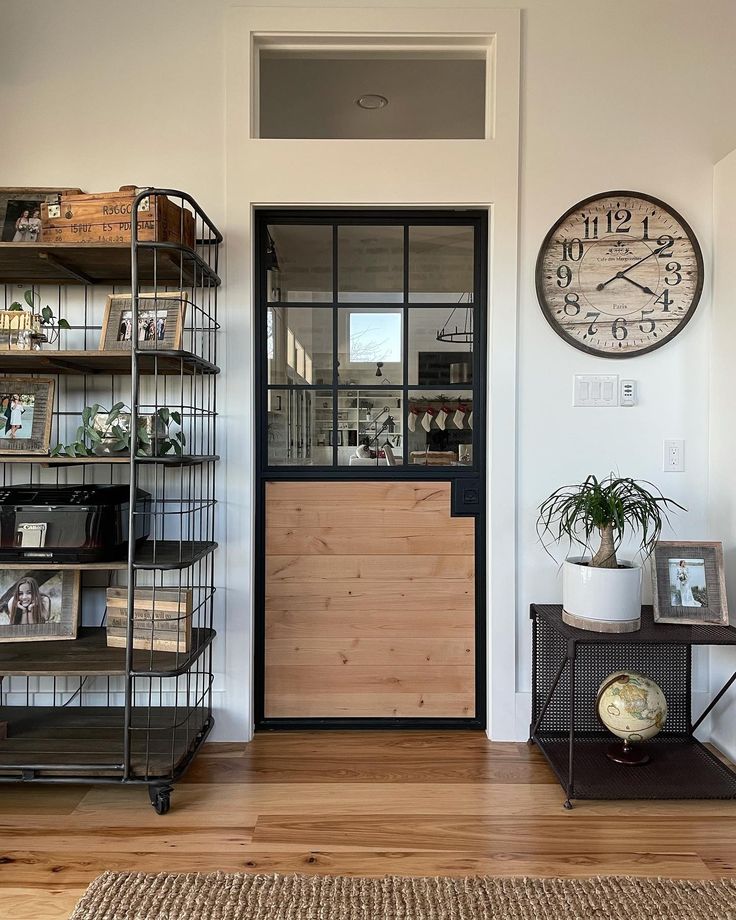 An industrial style pantry door can bring a modern and sophisticated atmosphere to the kitchen, with elements such as steel, bold design, and a raw aesthetic. Current trends in industrial pantry doors for 2023 include:
Solid wood doors
Invisible doors
Nature-inspired motifs
Doors with distinctive designs
Space-saving doors
Light doors with black accents
Metallic finishes and accents
Eclectic Pantry Doors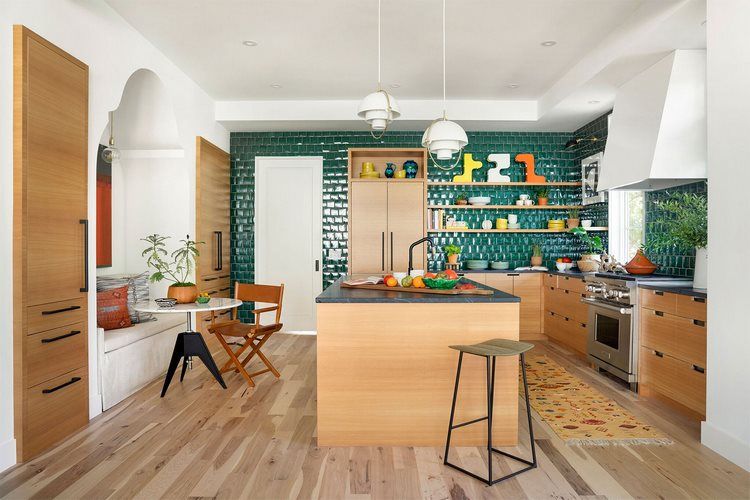 Eclectic pantry doors mix various styles, textures, and colors. Each one enabling a unique and personalized interior design that mirrors individual tastes and preferences. The primary characteristics of eclectic style consist of combining various eras and styles to create a unified appearance. This helps in blending multiple colors, textures, finishes, and shapes to create a personalized and sophisticated look.
Current trends for eclectic pantry doors in 2023 include:
Soft, muted pastels
Healing green tones
Impactful pinks
Rich reds
Earthy greens
Blues
When it comes to frosted glass pantry doors in an eclectic design context, you can expect a wide range of patterns, designs, and motifs. Here are some characteristics that may be found in eclectic interior design:
Diverse Patterns: From floral and paisley to geometric and abstract.
Global Influences: Look for frosted glass doors with motifs inspired by different cultures, such as Moroccan, Indian, or African patterns.
Bohemian Flair: This includes free-spirited, nature-inspired, and artistic motifs. Frosted glass doors with nature-themed or Bohemian patterns can be a great choice.
Incorporating both traditional and modern elements while introducing a range of textures is a popular approach, offering endless possibilities for creative self-expression in one's own home.
Mid-Century Modern Pantry Doors
Mid-century modern pantry doors pay tribute to the iconic designs of the 1950s and 1960s, exhibiting:
Clean lines
Geometric shapes
A blend of natural and synthetic materials
Organic and geometric shapes
Minimalism and simplicity
Open floor plans
Integration with the outdoors
These doors showcase the timeless style and elegance of mid-century modern design.
Popular colors for mid-century modern pantry doors in 2023 include:
Olive green
Burnt orange
Mustard yellow
Blues with vibrant accents such as reds and oranges
Glass, wood, and wood veneer, are commonly used materials for mid-century modern pantry doors, offering a stylish and functional space that reflects the best of this iconic era.
Scandinavian Style Pantry Doors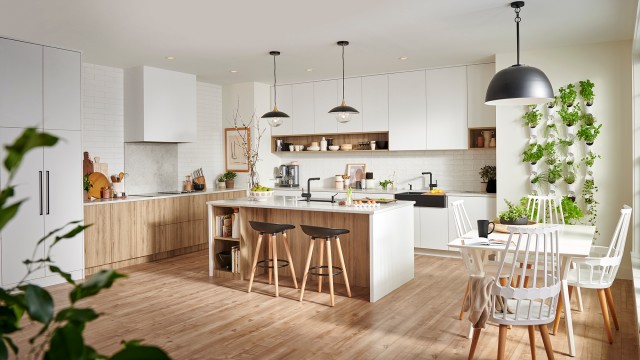 The Scandinavian design style emphasizes simplicity, natural materials, and functionality. People searching for this style may seek frosted glass pantry doors with minimalist patterns and light wood frames. Scandinavian pantry doors in 2023 highlight:
Simplicity
Functionality
Minimalism
Light colors
Natural materials
Clean lines
Serene and clutter-free kitchen environment
Light-colored wood
Minimalist and functional design
Natural materials
Neutral colors
Option of glass or modern aluminum framed doors for added flair
White, gray, blue, black, and cream are typically utilized in Scandinavian interior design. The focus on simplicity, minimalism, and functionality make these pantry doors a practical choice for a kitchen setup, ensuring a harmonious and inviting space for both cooking and gathering.
Summary
In conclusion, 2023 offers an array of exciting pantry door decor styles, catering to different tastes and preferences. From modern and farmhouse to eclectic and Scandinavian, these top 10 decor styles provide endless inspiration for creating the perfect space. Embrace the opportunity to personalize your frosted glass pantry door, and elevate your kitchen's style, reflecting your unique taste and flair.
Frequently Asked Questions
What is the most popular decor style for 2023?
For 2023, the most popular home decor style is minimalism with a focus on comfort and coziness. Neutral colors, warm textures and natural materials will be used to create relaxing spaces for the family.
What are the key characteristics of modern pantry doors in 2023?
Modern pantry doors in 2023 are characterized by minimalistic design, neutral colors, and a focus on practicality and simplicity.
What materials are commonly used in farmhouse pantry doors?
MDF, reclaimed wood, unfinished wood, knotty alder, maple, oak, and pine are the popular materials for farmhouse pantry doors, creating a warm, homely aesthetic.
How can I incorporate ornate details into traditional pantry doors?
Add an ornate touch to traditional pantry doors by incorporating trim or panels, or using antique doors with a vintage design, such as French doors.
What are the key characteristics of Scandinavian pantry doors?
Scandinavian pantry doors embrace a clean and minimalistic design with light colors, natural materials, and simple yet functional lines.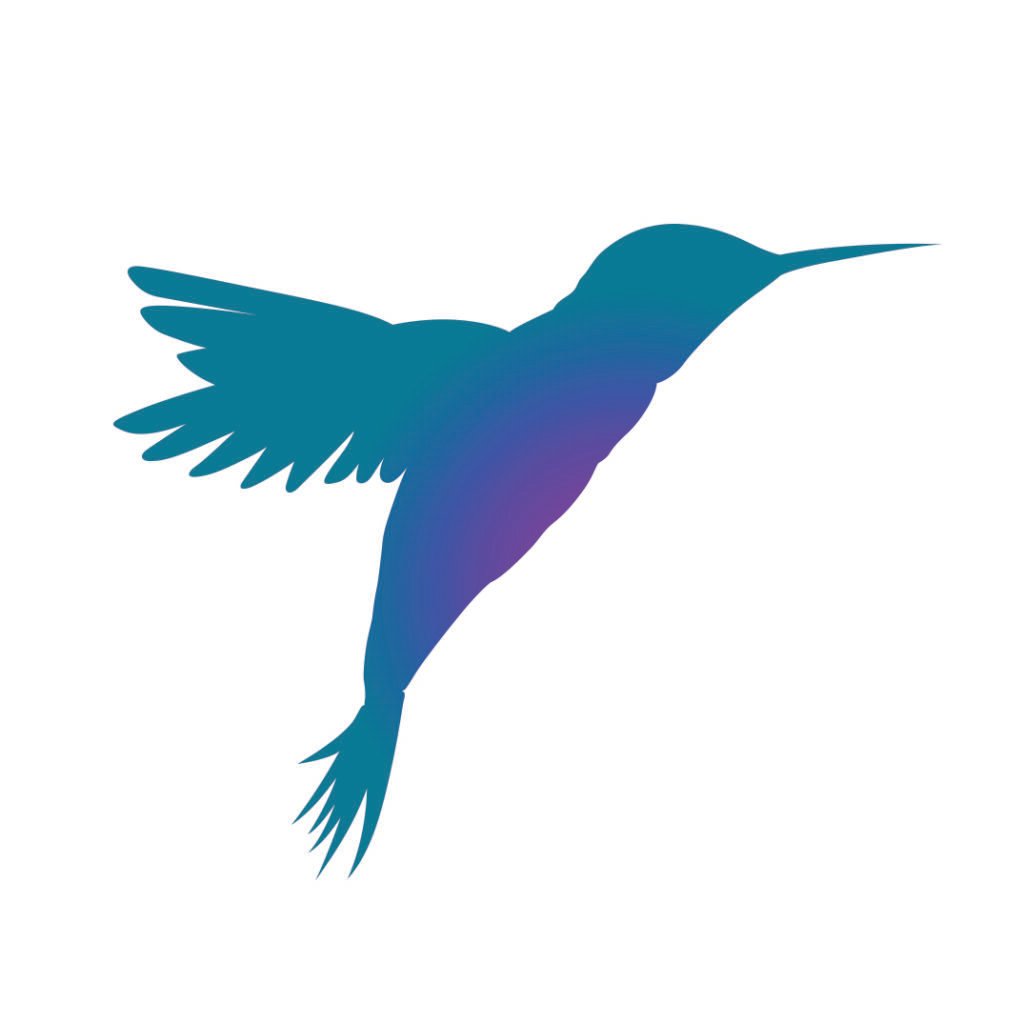 Sans Soucie Art Glass: A Legacy of Craftsmanship and Innovation
Family-owned and operated since its inception in 1976, Sans Soucie has solidified its place as the industry frontrunner in the realm of sandblast frosted glass, carved, and hand-painted glass. Pioneering the art of turning ordinary glass into breathtaking "Works of Art Captured in Glass", we have garnered acclaim both nationally and worldwide.
Sans Soucie has proudly undertaken tens of thousands of residential projects, delighting homeowners not just in the U.S., but internationally as well. Their portfolio also showcases an impressive range of commercial commissions, serving diverse sectors such as the service industry, hospitals, restaurants, museums, hotels, and libraries. Notably, Sans Soucie's exquisite craftsmanship even graces a tribute room aboard the USS George HW Bush CVN 77.
In 2010, Sans Soucie ventured into selling slab and prehung doors, further solidifying their presence in the home decor space. Recognizing the complexities associated with slab and prehung doors, Sans Soucie introduced their innovative Door Designer Tool. This user-friendly tool has since transformed door designing into a fun and effortless experience, allowing homeowners everywhere to craft doors that resonate with their personal style.
In essence, Sans Soucie Art Glass is not just a brand; it's a testament to unparalleled craftsmanship, innovation, and dedication to the art of glass design.
With free shipping to most states and worldwide shipping options from our base in Palm Desert, California, our extensive product range, which includes glass front doors, interior prehung doors, interior slab doors, pantry doors, interior glass doors, sliding glass barn doors, windows, shower doors, shower partitions and shower enclosures, frameless glass entry doors, decorative mirrors, glass signs, glass dining tables and glass coffee tables stands testament to our unwavering dedication to excellence.
Explore the world of Sans Soucie, where every piece of glass tells a story, and where history, craftsmanship, and innovation seamlessly blend.
Copyright © 2023, Sans Soucie Art Glass. All rights reserved.