Get Inspired: 50 Stylish Butler Pantry Ideas for the Home
Are you looking to elevate your home with a stylish and functional butler pantry? Look no further! A well-designed butler pantry can make all the difference when it comes to hosting dinner parties, staying organized, and maximizing space in your home. In this blog post, we'll explore 15 different aspects to consider when designing your dream pantry. From creative lighting options to eco-friendly design features such as glass pantry doors, there's something for everyone to find inspiration and transform their pantry into a space they'll love.
Dive into our world of pantry ideas and discover the endless possibilities that await. Get ready to unleash your creativity and bring your vision to life with these 50 stylish butler pantry ideas for the home!
Key Takeaways
Maximize space with clever storage solutions, creative lighting options and unique flooring choices.
Customize your butler pantry with contrasting cabinetry, vibrant accents and versatile seating & workspace options.
Make the most of vertical space while incorporating eco-friendly design features for an efficient and stylish pantry.
Maximizing Space with Clever Storage Solutions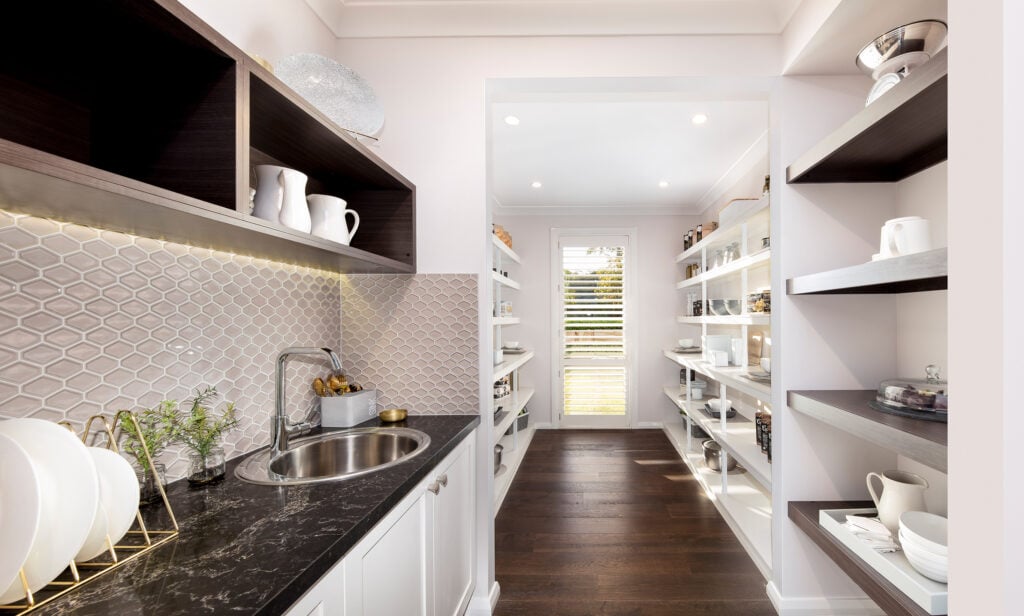 Every home benefits from a neatly arranged pantry, and smart storage solutions play a crucial role in accomplishing this. Here are some pantry ideas that can help you make the most of your small space while providing ample storage for food and other essentials:
Built-in cabinetry
Open shelving
Pull-out drawers
Floor-to-ceiling shelves
Utilizing these ideas optimizes vertical space, providing more storage for your items and allowing you to keep everything within easy reach.
In homes with high ceilings, installing upper cabinets can provide extra storage and a place to display your fine china or glassware. Open shelves not only serve as a storage area, but also add a touch of style and elegance to your pantry. Don't be afraid to think outside the box and implement unique storage solutions that cater to your specific needs, making your butler pantry an integral part of your living space.
Creative Lighting Options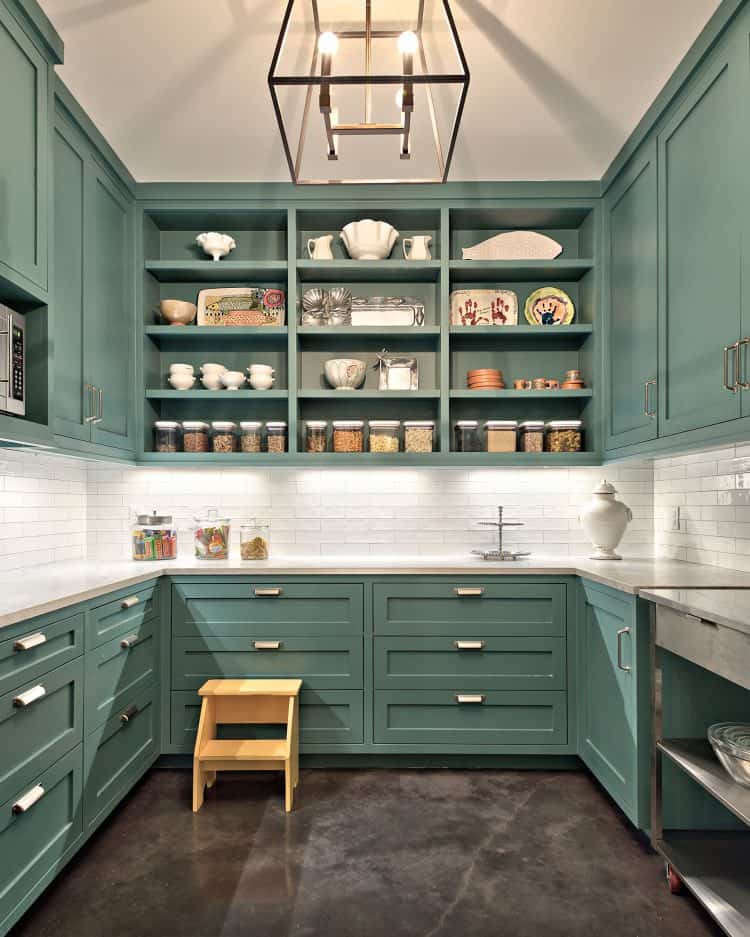 Your butler's pantry should not only be functional but also exude a warm ambiance. Creative lighting options such as pendant lights, under-cabinet lighting, and LED strips can significantly enhance the atmosphere, making your pantry a more inviting and enjoyable space to be in. Task lighting, for example, can be strategically placed above workspaces and countertops, providing ample light for meal prep and other tasks.
Consider the overall design of your pantry when selecting lighting options. For a traditional butler's pantry, a classic chandelier may be the perfect choice, while a modern pendant light could better suit a contemporary design. Don't forget about the benefits of LED display lighting, which is energy-efficient and can be used to create various lighting effects, drawing attention to specific areas such as shelves or counter spaces.
Incorporating Glass Elements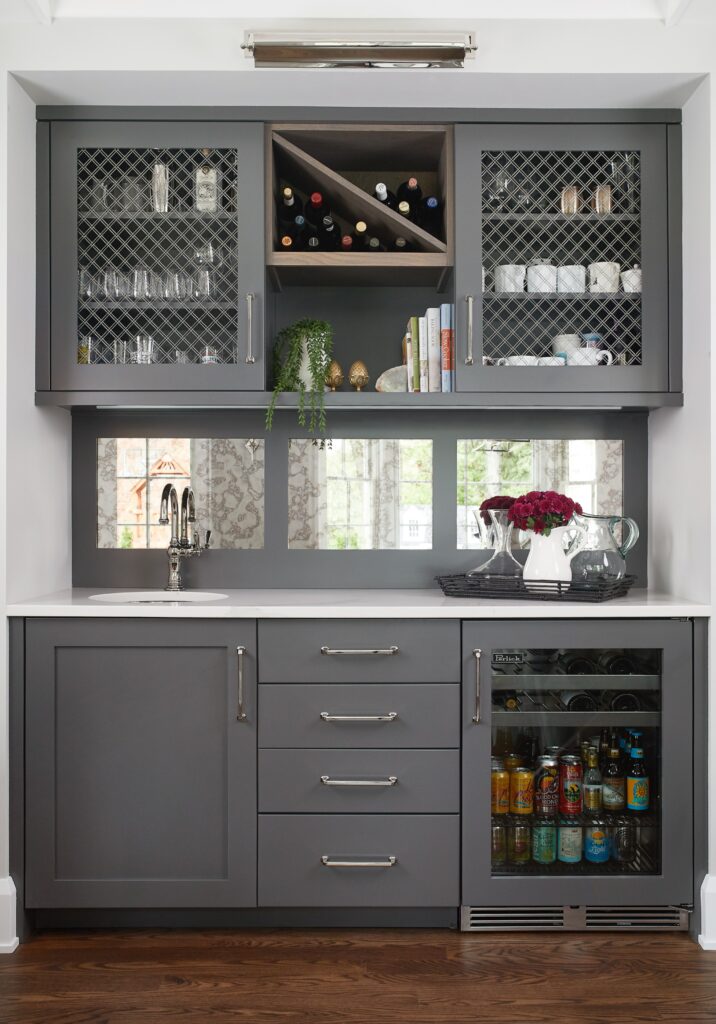 Incorporating glass elements into your butler's pantry design can lend an airy, elegant feel and visually amplify the space. Glass-front cabinets, glass pantry doors, mirrored backsplashes, and glass shelves are just a few ways to incorporate glass into your pantry design. For example, installing a mirror and statement wallpaper in lieu of a traditional backsplash can provide extra counter space and visual appeal in a vintage butler's pantry.
Positioning your butler pantry near the main kitchen or dining room is a practical idea, as it can be used to store dinnerware and serving dishes, making it easy to access everything you need during a dinner party. Combining glass elements with other design ideas, such as gold hardware and modern light fixtures, can further enhance the overall look and feel of the room, creating a butler's pantry that is both functional and stylish.
Unique Flooring Choices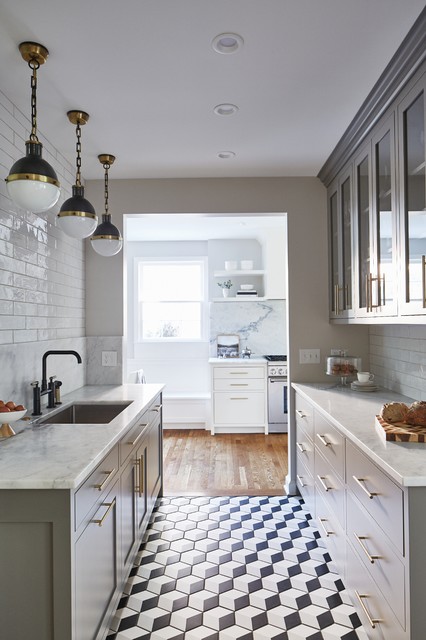 Your butler pantry's flooring can greatly influence the overall aesthetic and ambiance of the room. Unique flooring options like patterned tiles, hardwood, or polished concrete can add character and style to your pantry, setting it apart from the rest of your living spaces. For example, black and white honeycomb tile is an ideal choice for a modern pantry space, offering a chic look and easy installation.
Durability and ease of cleaning are essential factors to consider when choosing flooring for your pantry, especially in high-traffic areas. Ceramic tile is an excellent option due to its durability and variety of colors and patterns, making it suitable for use in a formal dining room setting. With so many distinctive flooring choices available, you can create a butler pantry that truly reflects your personal taste.
Customizing Your Butler Pantry with Color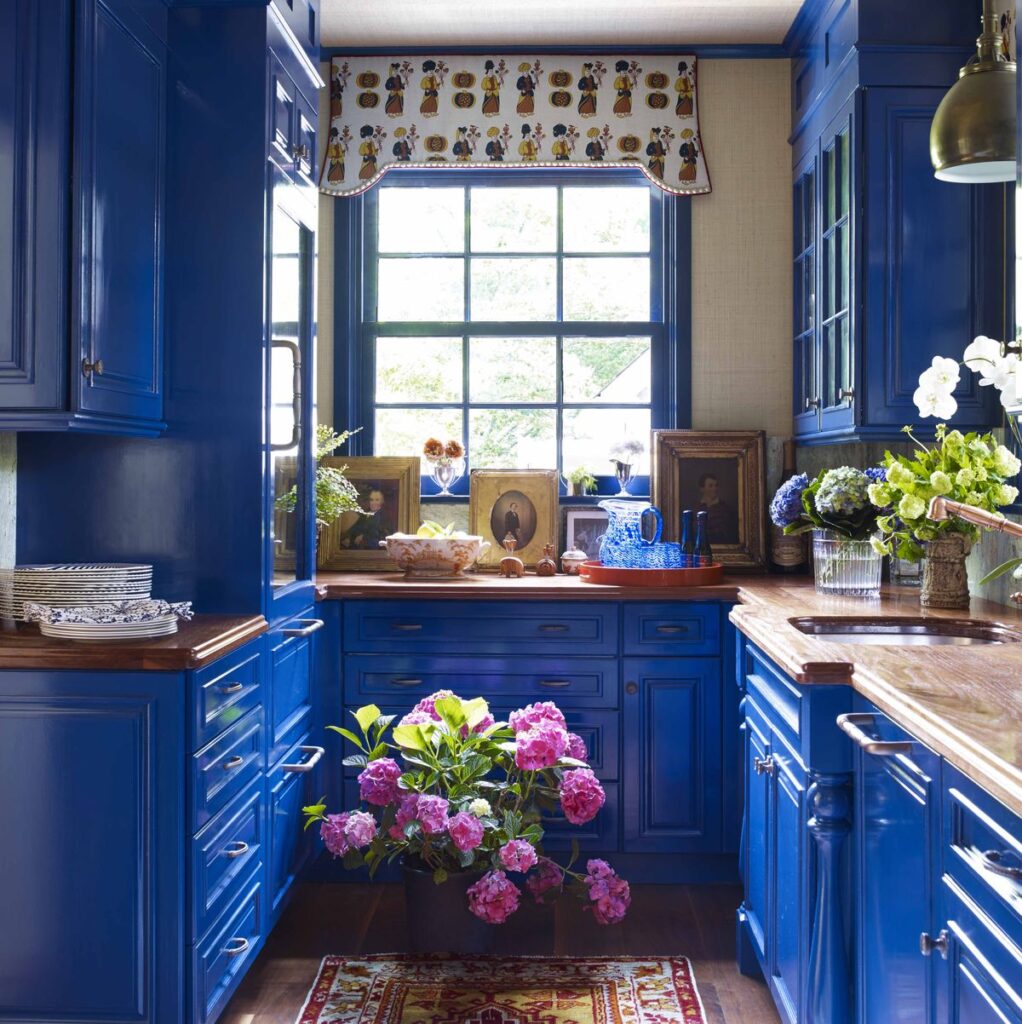 Either bold or subtle color schemes can infuse your personal style into your butler pantry, giving it an appearance that set's it apart. Contrasting cabinetry and vibrant accents can bring your pantry to life, while also providing an organized space for food storage. For a bold and glamorous pantry, consider using solid cabinet doors with unique design elements, such as Indigo Green marble and custom lacquer in Pantone's Mallard Green.
Whether you prefer a traditional or modern butler's pantry, experimenting with different color combinations can help you achieve the perfect balance between design and functionality. Don't be afraid to mix and match colors, textures, and materials to create a pantry that is uniquely yours and leaves a lasting impression on anyone who enters.
Versatile Seating and Workspace Options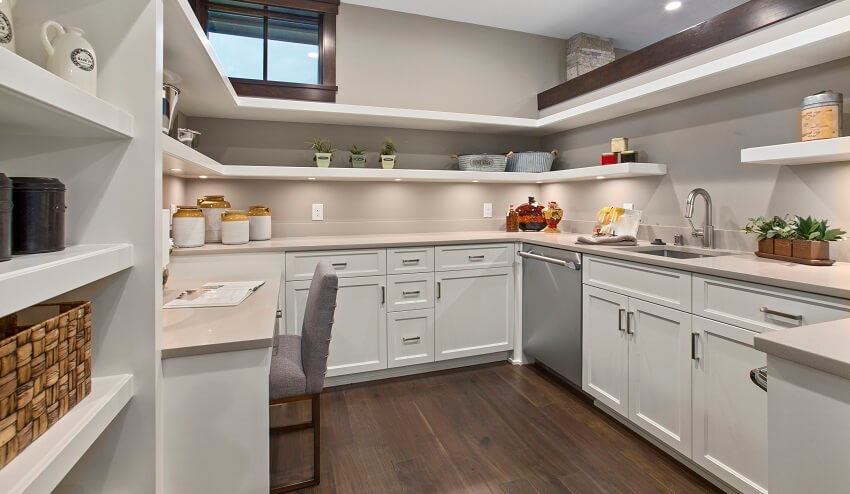 A versatile butler pantry is a worthwhile addition to any home, and its usability can be significantly boosted with flexible seating and workspace options. Built-in benches, fold-out tables, and movable islands are just a few examples of how you can create a space that serves multiple purposes, from food prep to casual dining.
Selecting a shelf unit with a fold-down worktop can provide additional preparation area in a butler pantry with limited space. A modern butler's pantry configuration can also serve various purposes, such as providing separate spaces for kitchen preparation or accommodating an elderly family member who desires their own kitchen area.
With a little creativity and some butler's pantry ideas, you can design a modern pantry that meets your unique needs and maximizes its potential. This will make it one of the most efficient butler's pantries.
Integrating Technology and Appliances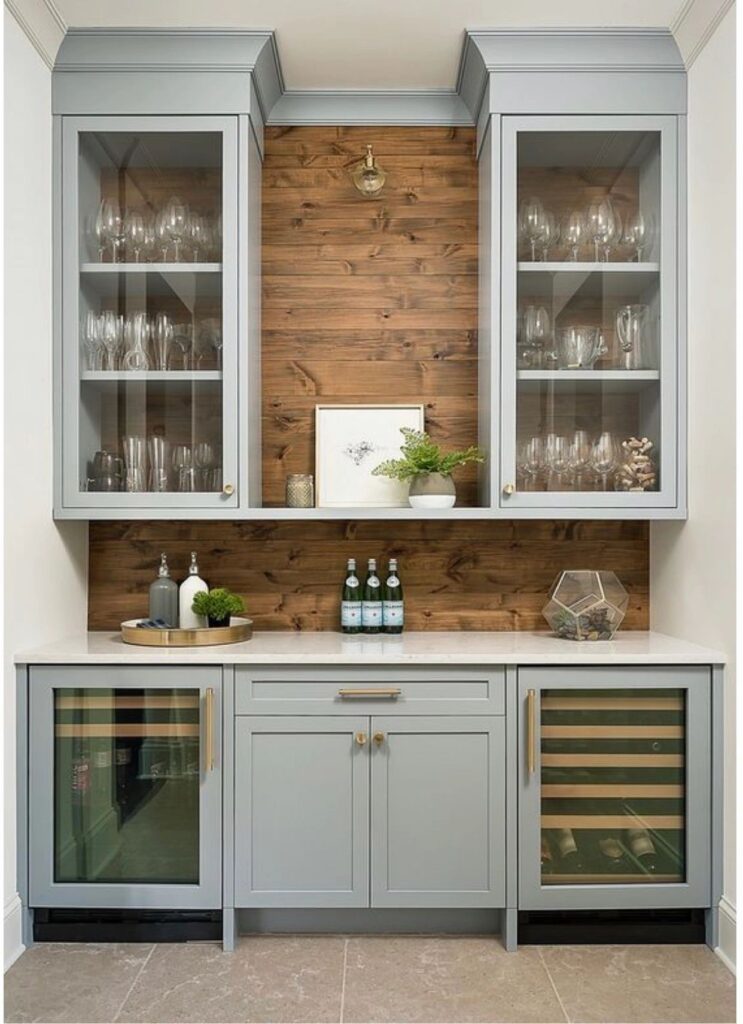 Boosting your butler pantry's functionality and convenience is vital, and can be achieved through the integration of technology and appliances. Wine coolers, coffee machines, and smart storage systems are just a few examples of appliances that can be seamlessly incorporated into your pantry design. An innovative wine storage solution, such as built-in wine storage shelves or wall-mounted wine racks, can also add a touch of sophistication to your space.
When it comes to storing extra appliances, such as a coffee maker or wine cooler, consider incorporating them into your pantry's design in a way that maximizes space and efficiency. By integrating technology and appliances into your butler pantry, you can create a room that is not only stylish but also highly functional and convenient for everyday use.
Personalizing Your Butler Pantry with Decor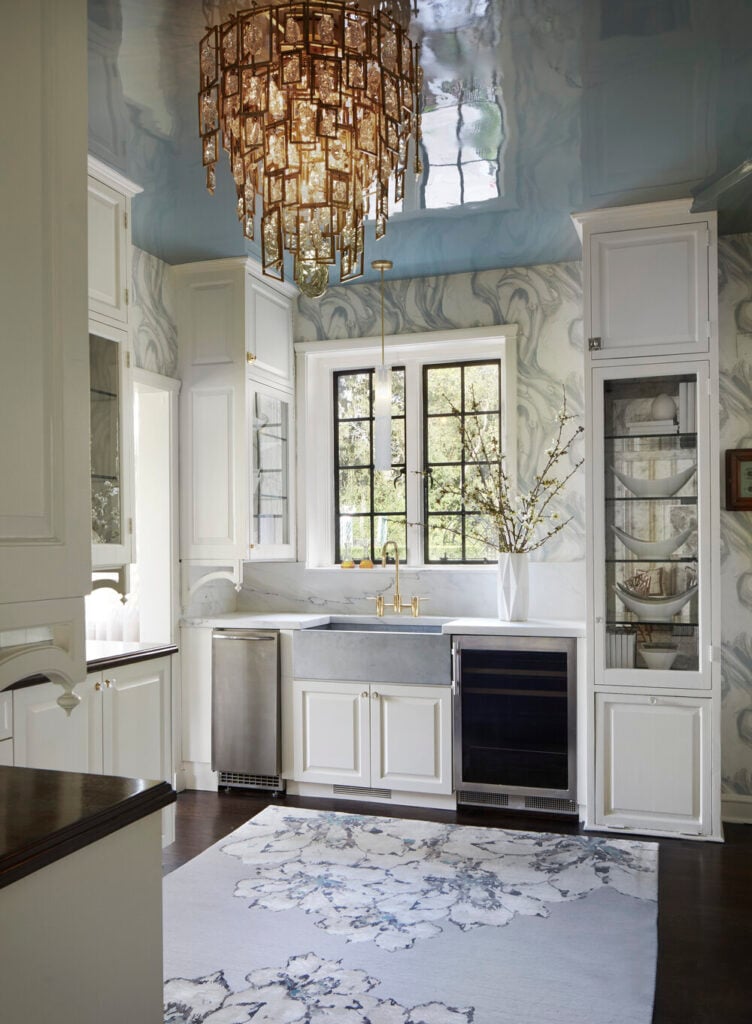 Personalizing your butler pantry can transform it into a welcoming and visually engaging space. Artwork, decorative dishware, and plants are just a few examples of decor items that can add personality and charm to your pantry. Don't be afraid to showcase your favorite pieces and use them as conversation starters when hosting guests.
A traditional butler's pantry designed with a primitive theme, as showcased by designer Amy Kartheiser, can provide a warm and inviting atmosphere while still offering ample storage and functionality. Personalizing your pantry with decor not only enhances its aesthetic appeal but also allows you to create a space that truly reflects your personality and style.
Eco-Friendly Design Features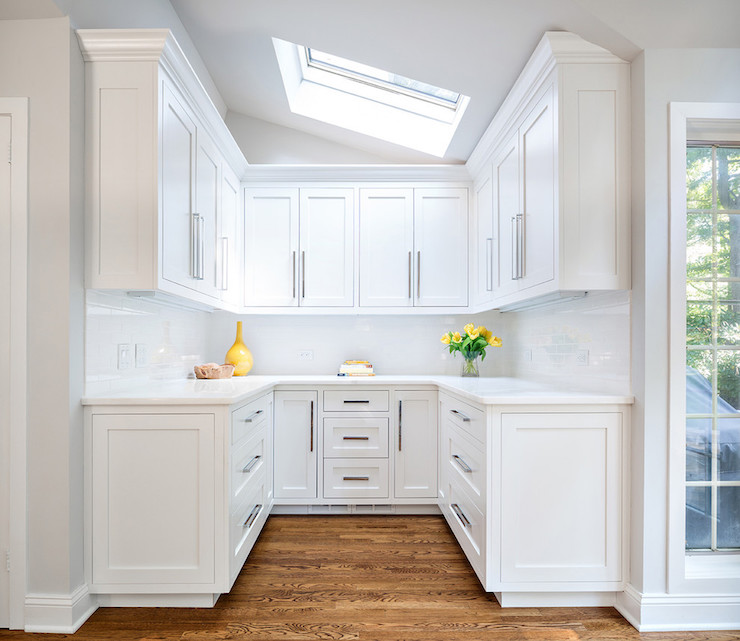 Designing an eco-friendly butler's pantry is not just responsible, but it also offers enduring benefits for your household. Incorporating eco-friendly design features like energy-efficient appliances, sustainable materials, and natural lighting can significantly reduce your pantry's environmental impact. For example, bamboo, cork, and recycled glass are renewable and recyclable materials that can be used in your pantry design.
Incorporating natural lighting through the use of skylights, windows, glass pantry doors, and other available sources can also create a more inviting and energy-efficient space. By choosing eco-friendly design features and materials, you can create a sophisticated and functional butler pantry that is also kind to the environment.
Making the Most of Vertical Space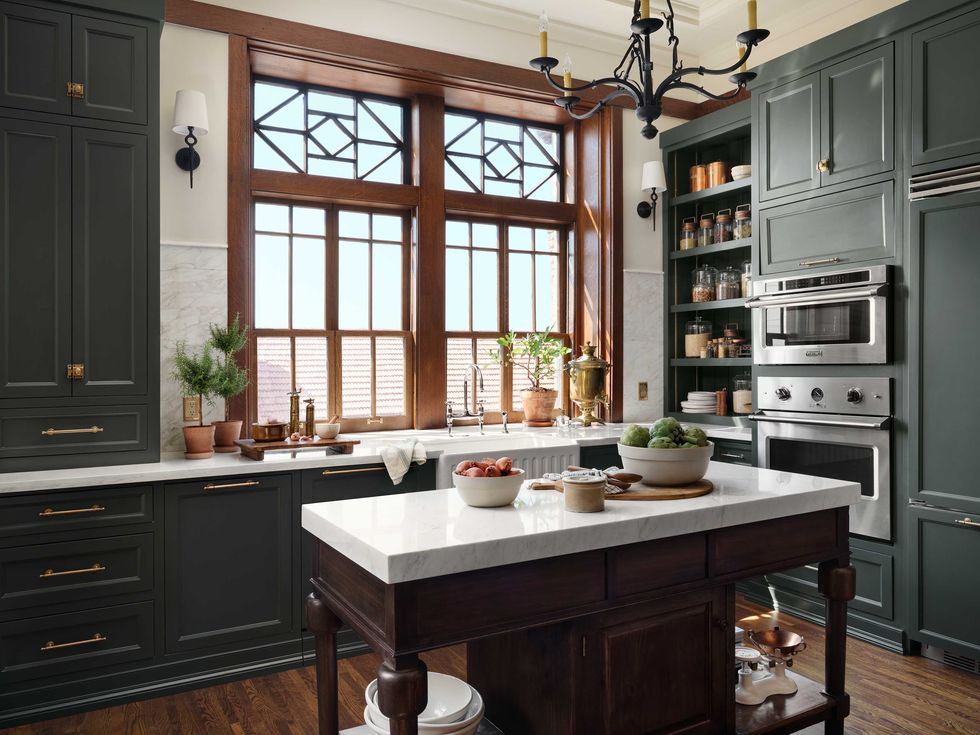 Optimal storage and organization in your butler's pantry can be achieved by fully utilizing vertical space. Floor-to-ceiling shelving, wall-mounted racks, and tall cabinets are just a few ways to make the most of vertical space and create a more efficient pantry.
For example, installing a ladder to access higher items not only adds charm to your pantry, but also allows you to utilize hard-to-reach spaces for storage.
By making the most of vertical space, you can ensure that your butler's pantry is both functional and aesthetically pleasing. With a little creativity and strategic planning, you can transform your area into an organized and efficient space that meets all your storage needs.
Transforming Small Spaces into Functional Pantries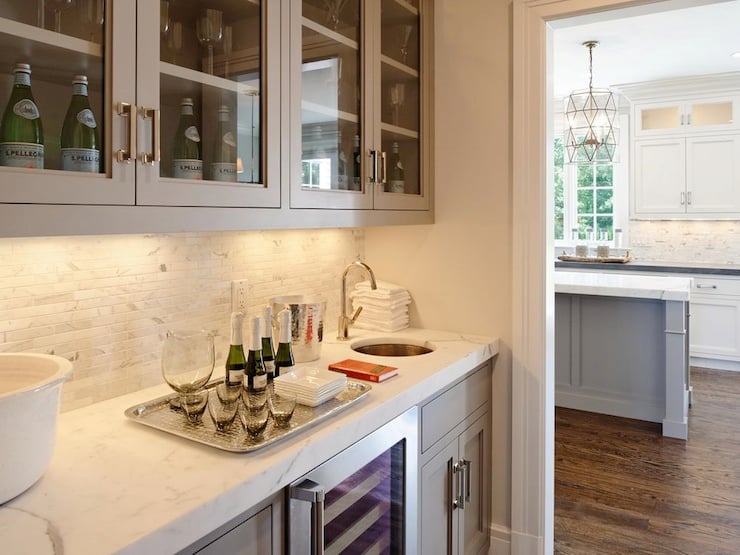 Despite a small or underutilized space, a functional butler's pantry that meets your needs can still be created. Space-saving solutions like fold-out tables, compact appliances, and multi-purpose storage can help you make the most of your limited space, while still providing ample room for food storage and meal prep.
Compact appliances like a small wine cooler or dorm-size refrigerator can be seamlessly integrated into your small pantry design, while fold-out tables offer additional workspace when needed. By transforming small spaces into functional pantries, you can maximize efficiency and convenience without sacrificing your desired overall look.
Butler Pantry Designs for Entertaining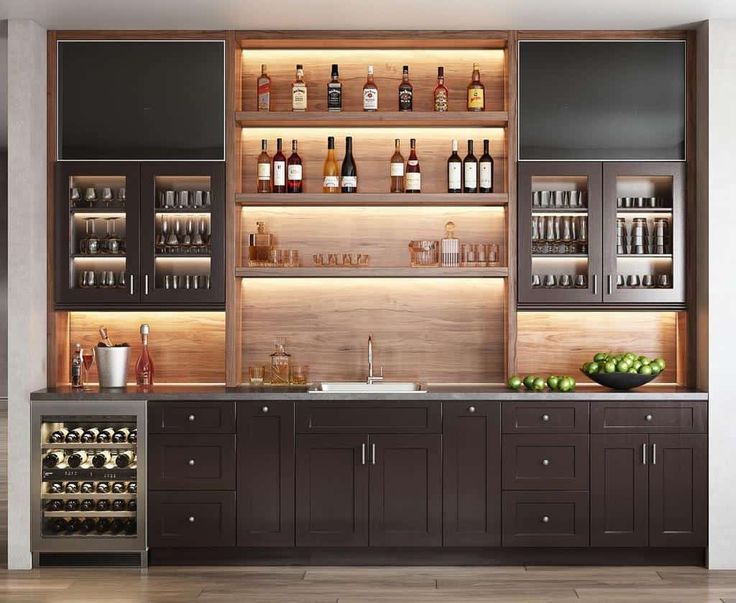 Entertaining should be a key consideration when designing your butler's pantry. Features like wet bars, beverage stations, and ample storage for dinnerware and glassware can make hosting events a breeze. For example, a well-designed wet bar can include an ice maker, a wine cooler, and a small glass-front refrigerator for storing beverages, mixers, and juices.
In addition to providing easy access to your finest dishes, a butler pantry designed for entertaining can also serve as a baking station or meal prep area. This helps with keeping the mess out of sight from your guests. With a thoughtfully designed pantry, you can effortlessly entertain and impress your guests at your next dinner party.
Combining the Butler Pantry with Other Spaces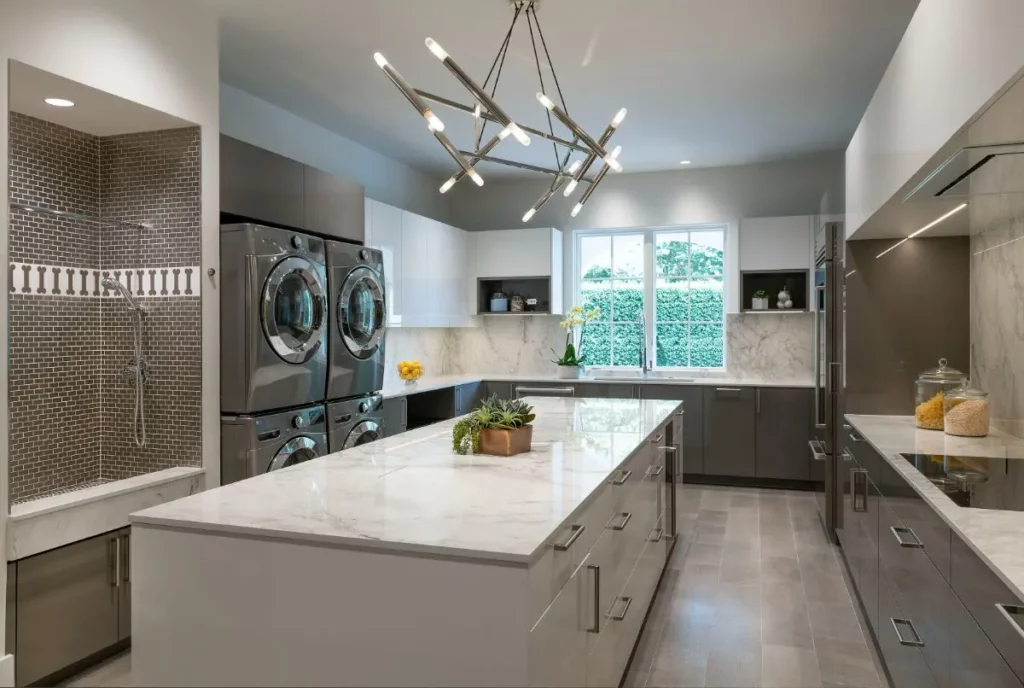 Your butler pantry can be transformed into a multipurpose area that enhances efficiency and convenience when combined with other spaces, such as laundry rooms or mudrooms. By incorporating a sink into your pantry, you can gain additional countertop space for food preparation and cleaning, as well as a convenient location to store dirty dishes while entertaining. Your space helps to meet the needs of both a laundry room and pantry.
Storing canned foods and other dry goods in your butler's pantry can also help you maintain an organized and clutter-free kitchen. By combining your pantry with other spaces, you can create a more efficient and streamlined flow in your home, making everyday tasks more manageable and enjoyable.
The Benefits of a Walk-In Butler Pantry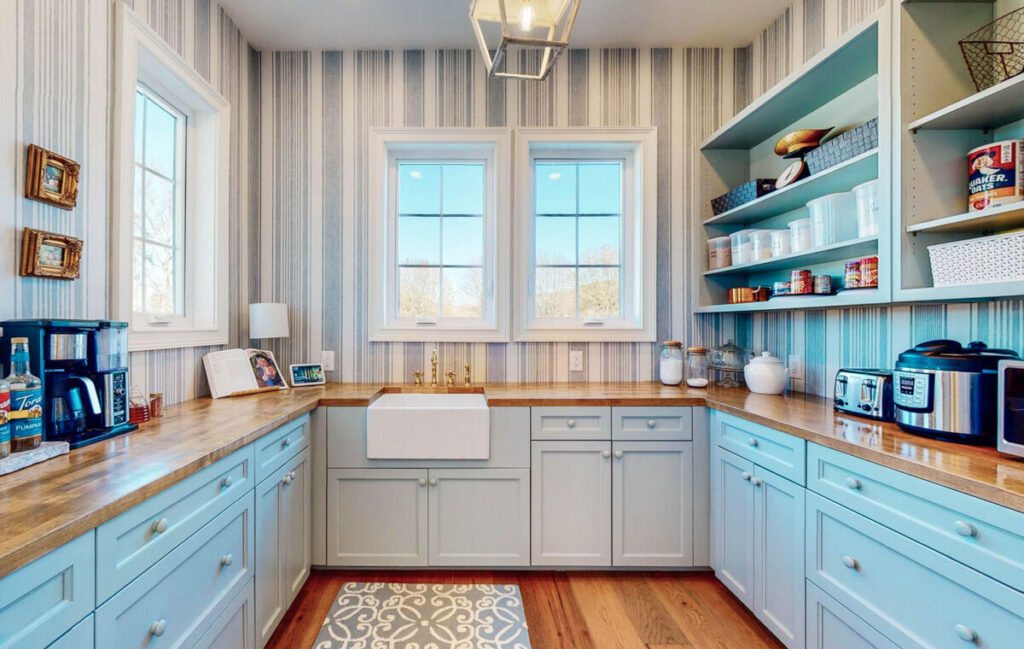 A walk-in butler pantry provides several advantages, including expanded storage space, enhanced organization, and a clutter-free environment. A walk-in pantry provides plenty of room for storing various kitchen supplies and speciality cutlery. This ensures that each hosting experience is organized and graceful. It can also be used to store extra dishware, appliances, and provide more working kitchen space to facilitate food preparation and clean up after all the cooking.
Utilizing a rolling ladder in your walk-in butler's pantry can also facilitate access to hard-to-reach areas, adding both charm and functionality to your space. With a clever walk-in pantry, you can enjoy increased storage, improved organization, and a more efficient space to meet all your needs and lifestyle.
Summary
In conclusion, a well-designed and stylish butler pantry can truly elevate your home, providing a functional and beautiful space for food storage, meal prep, and entertaining. By incorporating refined storage solutions, creative lighting options, unique flooring choices, and eco-friendly design features, you can create a pantry that is both practical and visually appealing.
Don't be afraid to experiment with different design ideas and personalize your pantry to reflect your individuality and lifestyle needs. With a little creativity and thoughtful planning, your dream butler's pantry can become a reality, enhancing the overall look and feel of your home while providing a room that you'll love for years to come.
Frequently Asked Questions
What should be in a butler's pantry?
A butler's pantry typically stores fine china, linens, glassware, silverware and alcohol, to be cared for and cleaned by the butler. These items are usually kept in a separate room from the kitchen, often near the dining room, to make them easily accessible for entertaining. The butler is responsible for maintaining the pantry and ensuring that all items are in good condition and ready for use.
What is a modern butler's pantry?
A modern butler's pantry is a transitional space between the kitchen and dining room that serves as an organized storage and staging area. It provides an ideal spot to store dishware and table linens, finish meals, and quickly access items stored in upper cabinets. This clever solution is perfect for busy home entertainers.
What's the difference between a butler's pantry and a walk in pantry?
A butler's pantry includes a sink, counter space, and sometimes even a refrigerator or wine cooler. This makes them more of a multi-purpose room than a walk-in pantry. Walk-in pantries primarily focus on storage with shelves, cabinets, drawers, and a space for larger items. This makes a butler's pantry a great addition to any kitchen, as it provides extra storage and counter space for food preparation and entertaining.
Does a butler's pantry increase home value?
The addition of a butler's pantry can add up to 70% of its building cost to the value of your home, so a $10,000 pantry could increase the value of your home by at least $15,000.
What are some creative lighting options for a butler's pantry?
For a modern, stylish atmosphere in your butler's pantry, consider adding pendant lights, under-cabinet lighting, or LED strips. These lighting options can be used to create a warm, inviting atmosphere, while also providing task lighting for food preparation and other activities. You can also add a decorative touche, such as a mirror or opt for a glass pantry door to give the space a more open and airy vibe.
About Sans Soucie Art Glass
Family owned and operated since 1976, Sans Soucie sets the industry standard for the highest quality design and execution of sandblast frosted, carved and hand painted glass both nation and worldwide. Choose from our vast collection of designs across every decor, or let us create a brand new one-of-a-kind designs per your specifications. Our frosted glass designs turn ordinary glass into art pieces that add a luxury element to your home, while creating the privacy you need. Truly art with a function, our etched glass designs diffuse light and reduce glare, while enhancing the look of your home with a unique, eye catching custom element. Not clip art or machine manufactured, each design is a uniquely handcrafted original work of art, custom designed for our distinguished clientele of homeowners and commercial developers.
Free shipping to most states, shipping both national and worldwide, all our glass is handmade and expertly packed in-house by our team of glass artisans and shipped from Palm Desert, California. Shop our most popular products like slab and prehung front doors, interior doors, pantry doors, glass front doors, glass interior doors, sliding glass barn doors, windows, shower doors, shower panels and shower enclosures, decorative mirrors, signs and glass tables.
Copyright © 2023, Sans Soucie Art Glass. All rights reserved.