Classic Pantry Doors for Classic Kitchens
While there's lots of trends that come and go, there's nothing like a true classic look that endures over time. Different trends like farmhouse style kitchens with distressed details, or modern style kitchens with sharp lines and cold details, are both beautiful. But, these looks come and go more quickly than a traditional feel. A classic look offers simple sophistication that feature timeless traditions that stand the test of time.
How do you Style a Classic Kitchen?
There are specific looks that are considered true classics. You may be wondering what those looks or features are or how to create it. Here's a few tips:
Keep the cabinet styles simple
Go for neutral colors
Don't clutter things up with too many accessories
Choose a simple and sleek backsplash
Avoid
A Classic Pantry Door Look
They say a classic look never goes out of style, and that sure rings true when it comes to our Classic Pantry Door design! In the top 3 of our most popular of all Frosted Glass Pantry Doors is the Classic Pantry is simple, and sleek look that exclusively features a border and the word "Pantry". (In other words, there's no "design element" featured on the glass that ties it to a specific them or decor style). So while it's simple and sleek, you'll still want to choose a look that coordinates best with your kitchen decor. With our fun and easy to use Door Designer, you get to choose from a wide variety of different borders in different styles, from a simple pinstripe look of one or two bands, to borders that include details like grape clusters and ivy leaves. As you're designing, you'll see the different elements change and update so you can see exactly what your door will look like! Check out our demo video of how to customize Classic Pantry Doors!
Examples of Classic Kitchen Looks
Just a few variations of what's considered a classic style kitchen. From warm to medium to a more bright white look, each of these has it's unique characteristics while being simple and non-specific enough to be a more timeless look.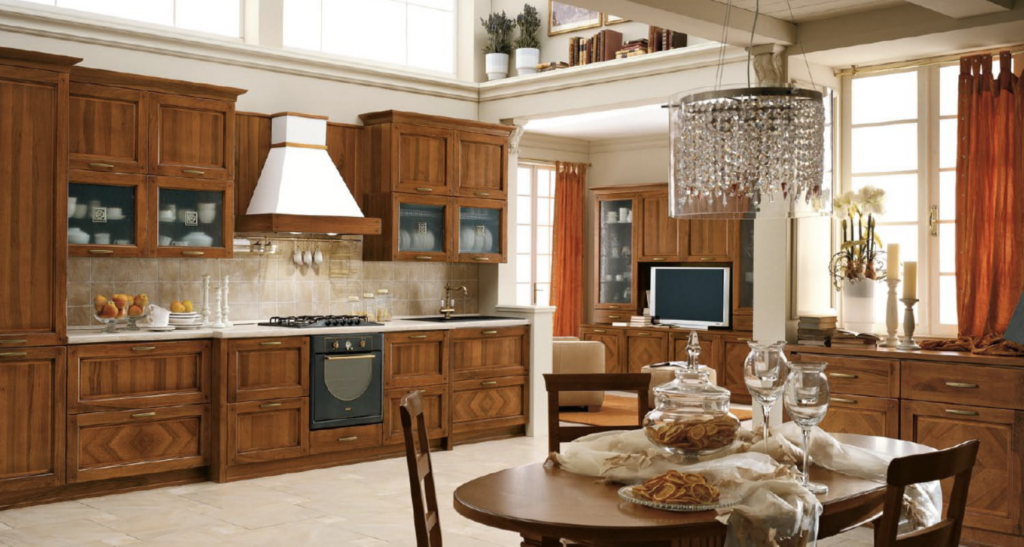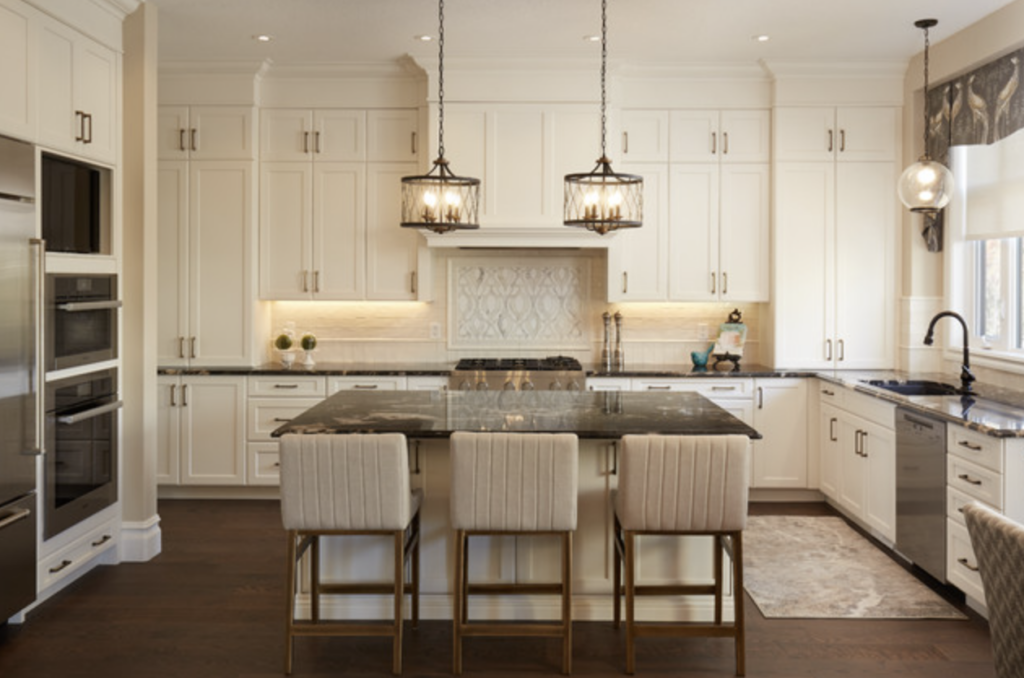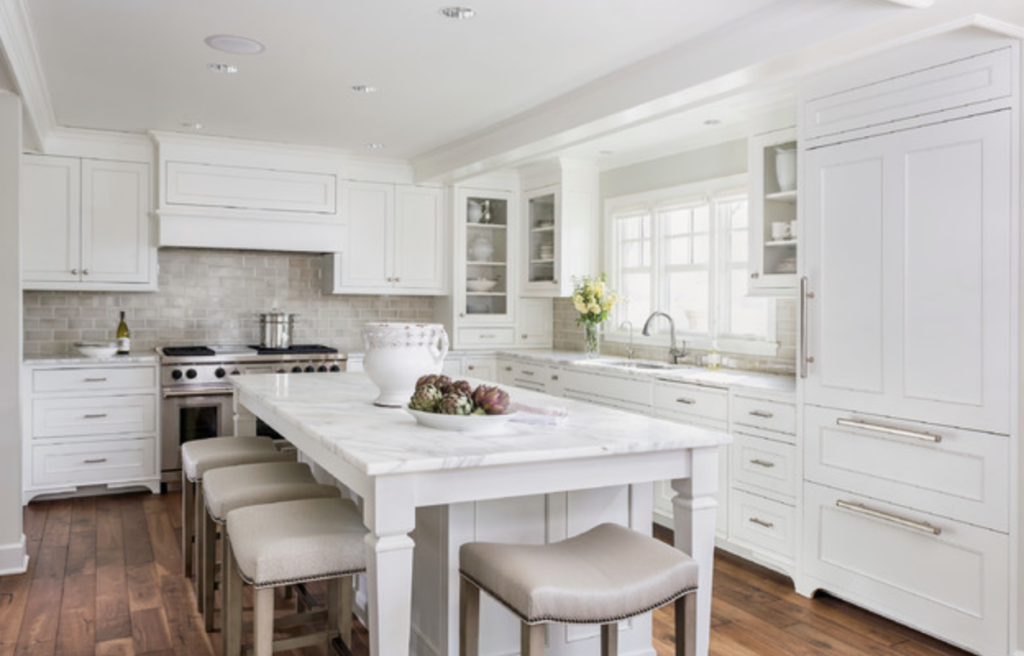 Classic Pantry Door Examples
Here's a few examples of a Classic looking frosted glass pantry door in a few different woods and various borders and font styles. Shown here is a primed door, which is what you would purchase if you're painting your pantry door. Then, we show Knotty Alder, Douglas Fir and Oak.
What Wood Best Suits my Kitchen?
Wood species can be chosen to match your cabinets as well as the overall decor. Knotty Alder and Oak create is a more rustic look, while Douglas Fir is a more neutral wood finish without unique characteristics in the wood like oak or knotty alder. Douglas Fir is the best choice if you're looking for a wood that will coordinate and blend with warm tones without being to "style specific". The wood will stain beautifully across light to dark tones. Here's an interesting article about wood species types.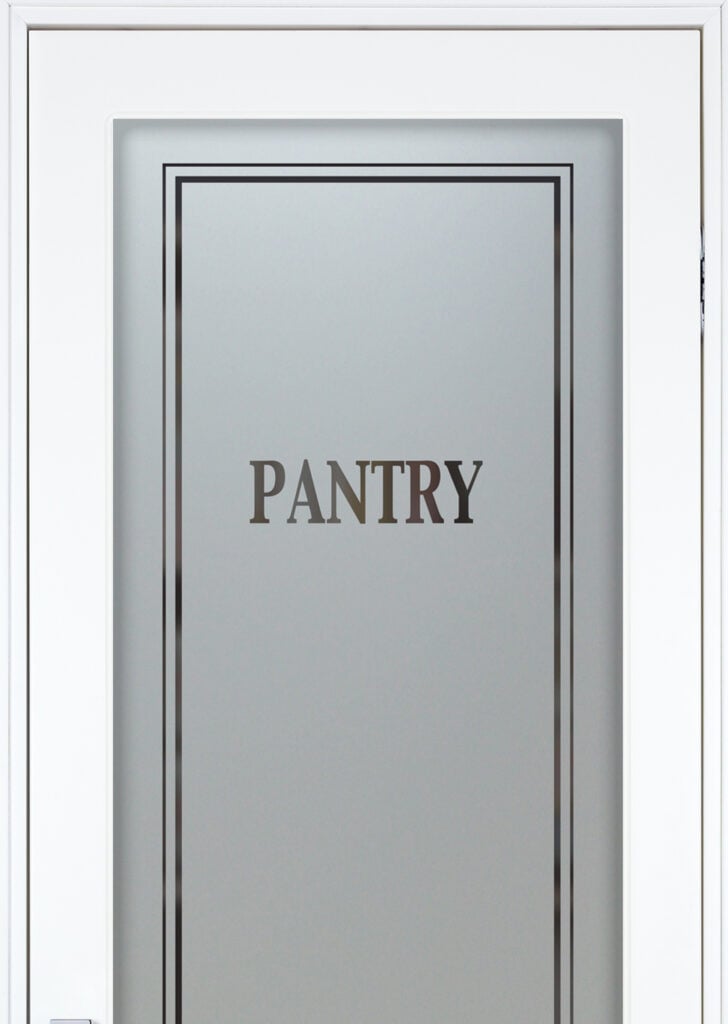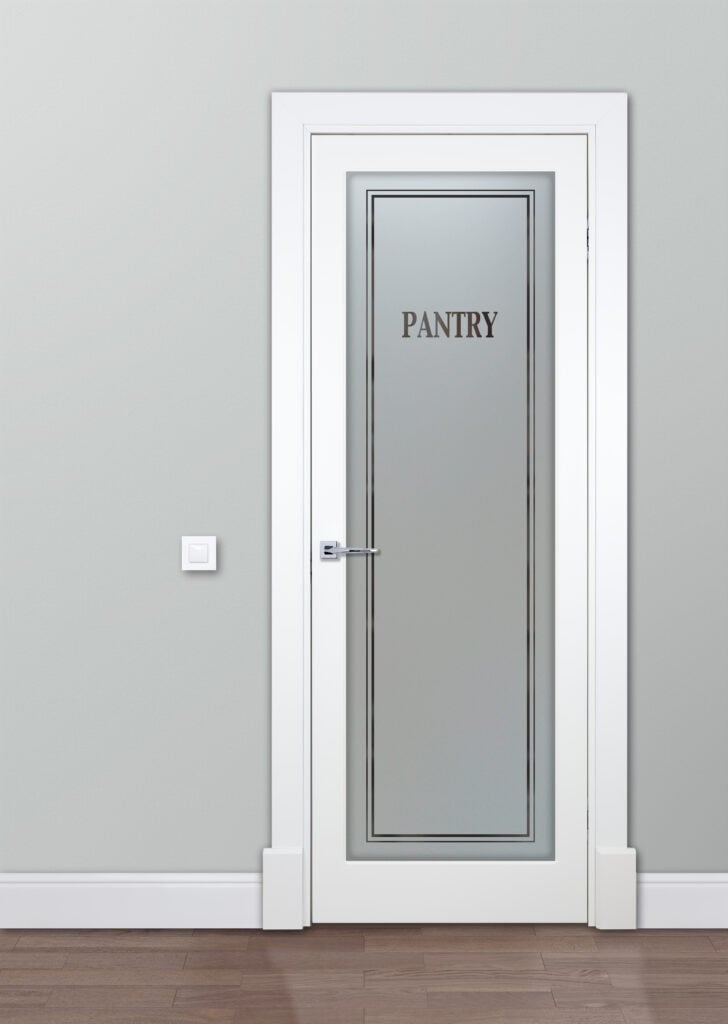 With so many options to choose from, you can design a pantry door that compliments your kitchen and gives you the look you're after while greatly enhancing your kitchen decor! Browse our Kitchen Pantry Doors to see our beautiful collection of frosted glass pantry doors!