Impressive Designs and Privacy – Front Doors with Etched Glass
Never feel like you have to sacrifice privacy for Light! Get the best of both worlds with STUNNING Etched Glass Designs on your Front Doors with Glass!
With so many technique options for you to choose from, you can now achieve the exact privacy level your family needs with Glass Doors! Sans Soucie's team of experts know how to take your one of a kind design and translate it into a masterpiece of both Art and Functionality! With a variety of choices such as etched, carved, painted and more, you'll want to check out our Same Design, Done Different Gallery! This allows you to view the privacy levels based on each specific technique and effect!
Our Door Designer is the PERFECT tool to use when wanting to look at ALL your options! This INTERACTIVE tool takes you step by step in creating a Front Door with Glass from beginning to end! Need more privacy? How about adding a glue chipped background! Or add a carving dimension to your design! These are a few of the ways to effect your doors Overall Privacy Level! As you continue to select every detail, the door will change LIVE and will even result in an INSTANT price quote!
This GORGEOUS Bird of Paradise Design is hand crafted with a 3D Carved and Etched Technique! It creates an effect that makes the door semi-private with a clear glass background. But your options don't stop there! Love this design but need MORE Privacy? Then simply select a glass background that is Solid Etched all over! Whatever you need, Sans Soucie is sure to have a solution! Enjoy making your Dream Door a reality in the "privacy" of your own home, TODAY!
Doors ship worldwide starting at $99-169 for most States.
See more designs like this in our Bird Of Paradise Gallery!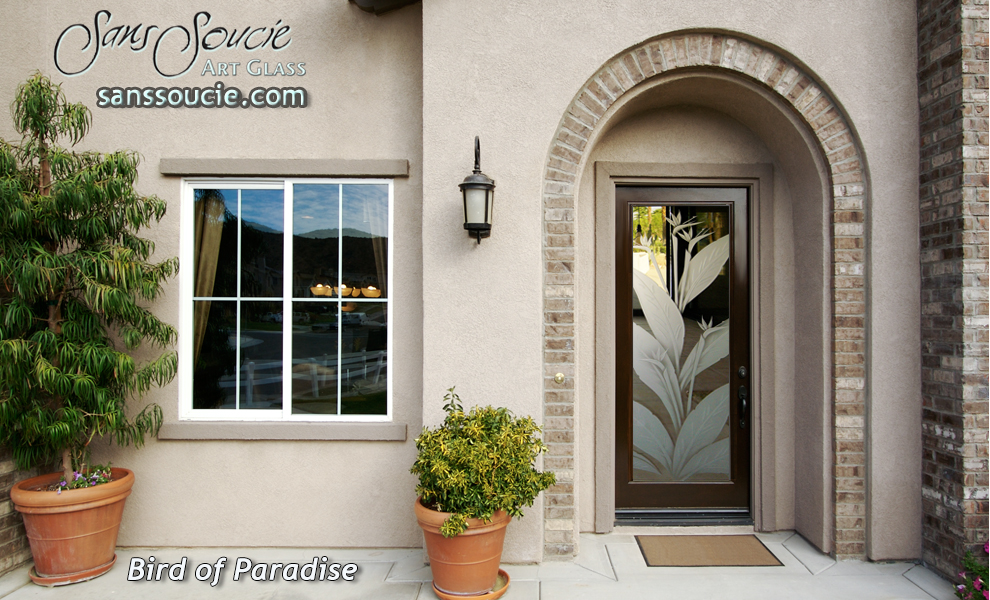 This same beautiful Bird of Paradise design, shown in other Solid Frost Effects. These effects run approx. $40-50/sf, verses our 2D averaging at $80 and 3D averaging at $120/sf.
Click any door for instant pricing and customization!
Even place your order online in our Door Designer!