Glass Entry Doors – Affordable Luxury for your Home!
Glass Entry Doors with custom glass etching bring luxury to an entry and are more affordable then you think! You don't have to break the bank or your wallet to upgrade to custom made-to-order Carved Glass Doors! Whether you're looking for something simple and elegant or complex and extravagant, Sans Soucie has the capability to meet both your style and budget needs!
Glass Entry Doors by Sans Soucie can feature any design – all custom etched to provide the privacy level you need .. from a little, to a lot!
Introducing Glass Entry Doors into your home has never been easier! Sans Soucie's Door Designer is an easy way for you to create the door of your dreams! Their selection of Privacy Levels, Techniques, Effects, Designs, and MORE, allow you to get an INSTANT on-line price quote! Never sacrificing art for function or affordability, Sans Soucie can help accommodate your budget by showing you how they can execute your door design in a variety of ways! It's called Same Design, Done Different! WOW!
The Corazones Design shown on this front entry is considered semi-private and is created with both a 3D carved and glue chipped technique. The glass is hand sandblasted, etched and carved. The glass etching and gluechip surface allows light to beautifully diffuse into your space, making your door both stylish and functional! START DESIGNING TODAY! Don't let price stop you from obtaining the look of luxury that your home deserves!
See more of this design done in a variety of ways in our Corazones Glass Gallery!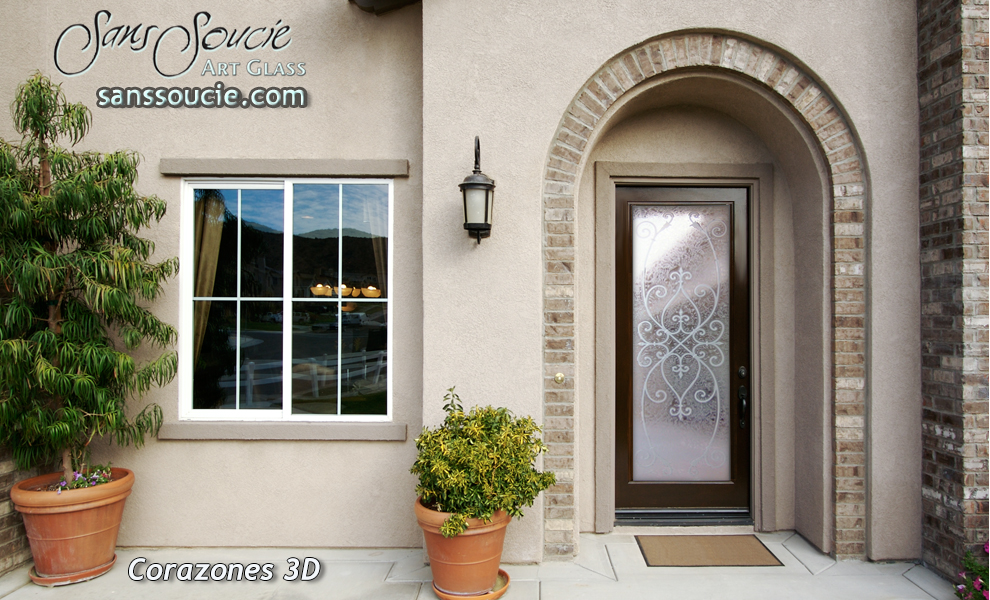 All created thru hand sandblast glass etching, Sans Soucie designs come in a variety effects, all offering different privacy and price levels.