Double Entry Glass Doors with Traditional Sophistication!
The ambiance of a home that's centered around family, love, and good food can be felt through welcoming Double Entry Glass Doors! Something as small as upgrading your home with Glass Doors, can make a huge difference and style statement! Taking the meaning of "traditional" to another level!
Sans Soucie's Entry Bands design, demonstrates how even a classic and simple pattern can instantly bring luxury to any home! Introducing Double Entry Glass Doors into your world has never been easier! These beautiful custom made-to-order Glass Doors can be purchased and personally designed right online! Sans Soucie's Door Designer allows you to choose every single detail of your door!
This featured design is considered semi-private but your Double Entry Glass Doors can be as private as your family needs! Never sacrificing functionality for design, Sans Soucie has a mired of Privacy Levels for your doors to be executed in while still allowing light to reflect through! Creating Glass Doors is both easy and fun!
See more designs like this in our Solid Frost Negative Glass Doors Gallery!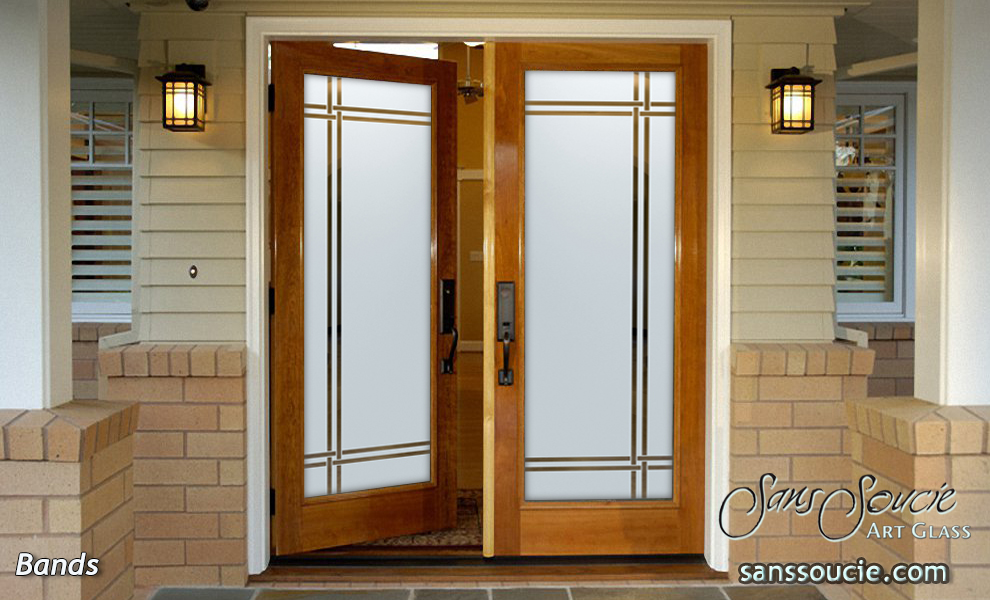 THIS GLASS IS SEMI-PRIVATE
The glass has been Solid Frost Sandblasted.
Design elements are Clear Glass.
This design is Solid Frost Negative and features Sans Soucie's Bands Glass Front Door. Amazing design that adds a touch of class to any home.   This door can be customized  and purchased online!   Inside our Glass & Door designer  you customize everything about your Glass and Door!  Specify your size, choose from 8 wood types and experiment with different designs in different effects, getting instant pricing as you go along!