Have A Tropical Escape From Winter With Our Hibiscus Frosted Glass Design!
Its getting Colder here in Southern California, and We Get what we call "Snowbirds" coming in from All over. Trying to escape the harsh winter from up North. So with that I thought why not show Everyone Our beautiful tropical Frosted Glass called Hibiscus. This particular piece of art is quite unique. The reason being that is has a Glue Chip on all the open space of the glass that was not already sandblasted. Our Artist uses a special glue that is placed on the smooth glass surface and left there to dry, as it dries the glue will actually pull up a layer of the glass that gives it the desired look. Its because of this process that makes this Design private as well as Magnificently Beautiful. I personally love this piece and post it today because it help put a wonderful tone of paradise in your Home.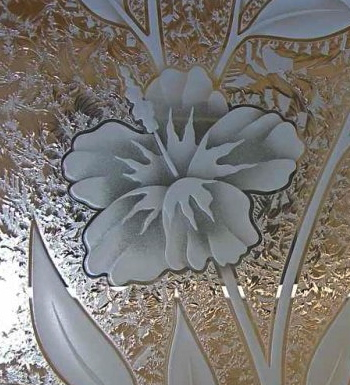 We Love what we do here at Sans Soucie! If you liked Hibiscus, just remember that ALL OUR GLASS can be placed any where you would like to place your glass, if you wanted Glass Doors, Cabinets, Windows, Showers, Mirrors, and the List Goes on! So Go ahead and check out the rest of Our Gallery to see more!