Spotlight 29 Casino – Carved & Painted Glass Door by Sans Soucie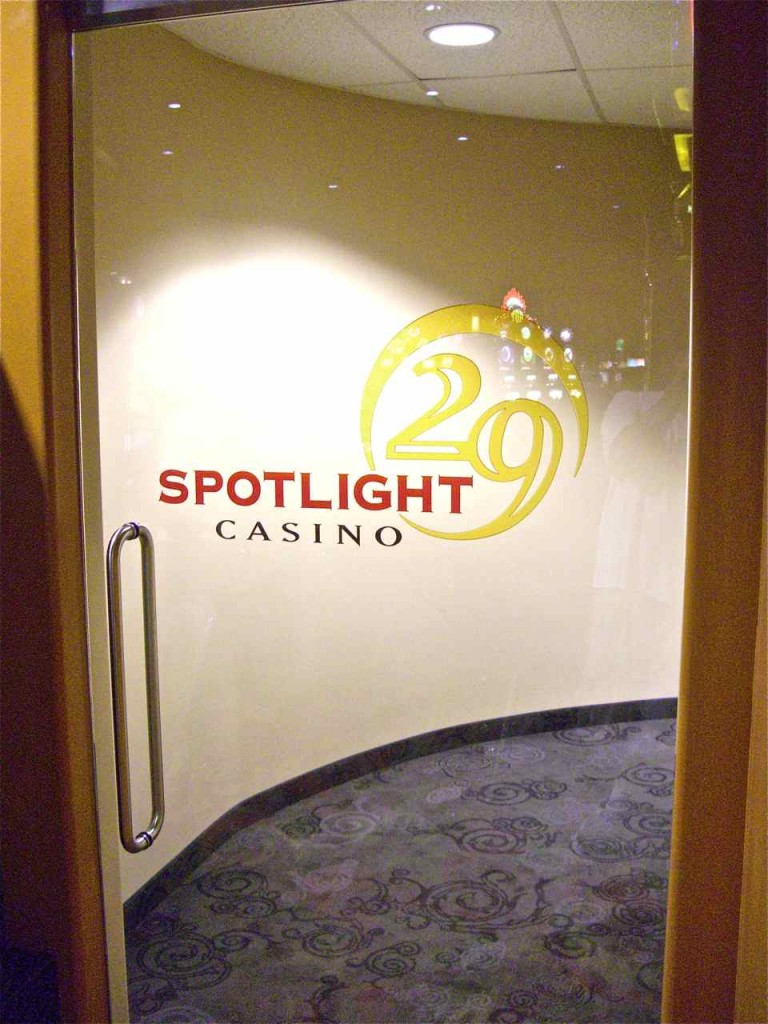 This all glass, frameless door is 3D Deep Carved and Painted with the Spotlight 29 Casino Logo by Sans Soucie Art Glass. The deep shades of yellow and red are translucent and are illuminated by the surrounding light, creating a brilliant eye catching effect for passers by! The glass is 1/2″ thick and the door features a solid brushed nickel, tubular door pull.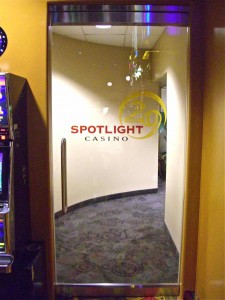 Spotlight 29 Casino is located at 46-200 Harrison Place, Coachella, California, approx. 22 miles from Palm Springs and 11 miles from downtown Palm Desert. Spotlight 29 is owned and operated by the Twenty-Nine Palms Band of Mission Indians. Spotlight 29 Casino opened its doors in 1995 to the public under the right of National Indian Gaming Regulatory Act of 1988; stating Native American Tribes have a right to operate Casinos.
Over the years Sans Soucie has done a number of art glass pieces throughout the casino, including the wall surround glass at the JEM Steakhouse, the surround glass for the Rattlesnake Restaurant, the Poker Room Entry Glass, Partition Panels 3D Carved with Fern Leaves, and the front Entry Glass features a stream of Logos all across, all etched by Sans Soucie.