Etched Glass for Hotels, Restaurants & Casinos by Sans Soucie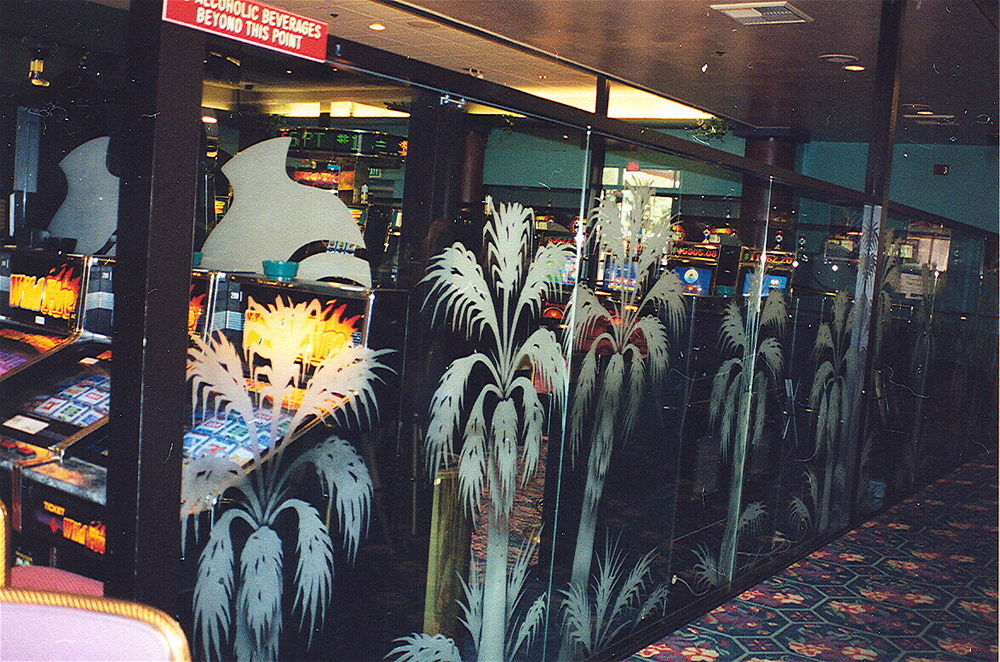 Decorative etched glass is a very popular and useful architectural feature for hotels, restaurants and casinos. Over the years Sans Soucie has been commissioned to create a wide variety of custom designs for architectural art glass items such as custom mirrors and entry windows.
One of my favorites is an "oceanic theme" partition we did for a restaurant inside the Marriott's Renaissance Long Beach Hotel. The glass named "Renaissance Waves" is solid frosted in a "negative sandblast effect", leaving flowing waves and curl shapes in clear glass. The glass is 18″ tall and was set on pony walls. The top edges of the glass were chiseled irregular.
Another favorite is "Spa Resort Casino in downtown Palm Springs. The glass was etched with beautiful date palms that ran across multiple wall glass panels that ran thru the center of one of the casino's slot machine areas. There were also glass partitions that were installed above the slot machine's, that featured a "tilted clay pot" taken from the casino's logo.
One of our legendary, local restaurants Morton's' Steakhouse in Palm Desert, has edge lit booth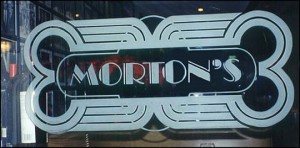 partitions that are 3-dimensionally sculpture carved with their Logo. The glow of the glass adds a very classy and elegant ambiance to their dining area.
A stunning example of creating a custom design that's for fitting the architecture and decor, as well as the geographical landscape of the area, are the glass partitions we created for a restaurant at The Quarry, a private golf community located in La Quinta, California. We named the glass "mountains of La Quinta. The way the glass picks up reflection and light, the lakes actually take on a "realistic water shimmer" at certain times of the day.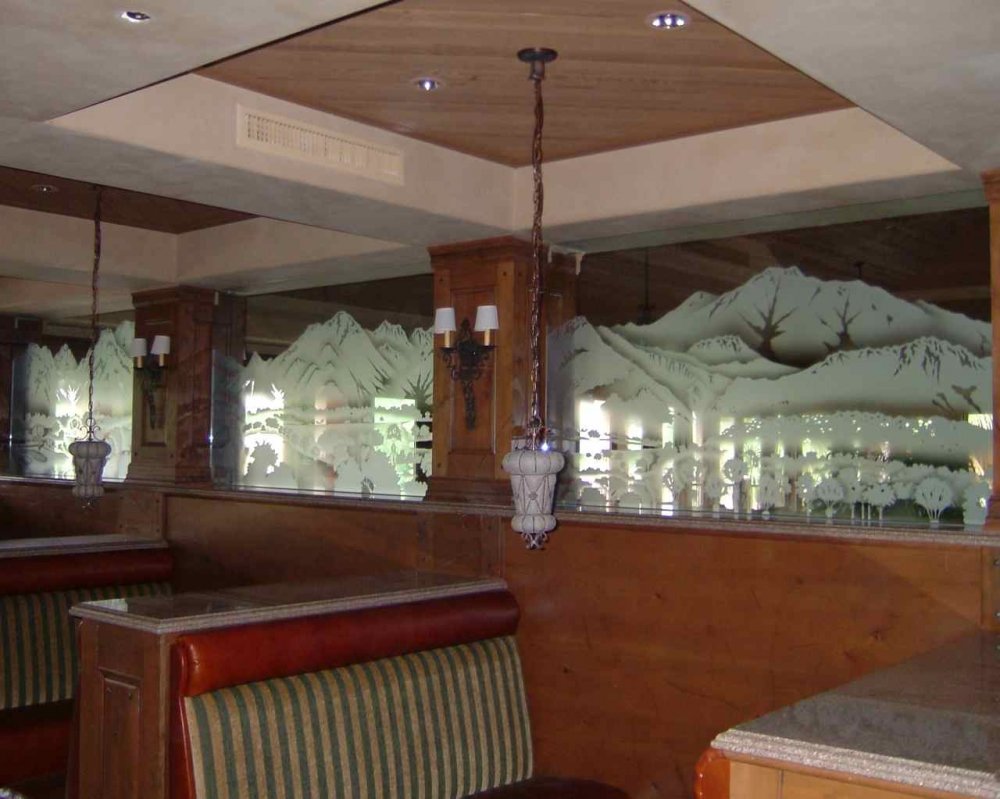 There are many examples of booth and partition glass that can be seen inside our Custom Glass Dividers Gallery. Also visit our Commercial Commissions page for more examples of glass we've done for various hotels, restaurants, hospitals and theatres all over the country.
Our goal at Sans Soucie Art Glass is to create the perfect, custom look for the architectural glass for your project!