Glass Doors Add a Level of Luxury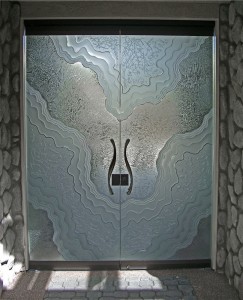 All glass doors, also known as frameless doors, are really our "signature piece" at Sans Soucie Art Glass.
Both glass door inserts and frameless, all glass doors are our most popular product, and while either one will create a stunning entry when the glass is etched, frosted or carved with one of our exquisite custom glass designs, there's no doubt that an all glass door really does "take it up a few notches", as far as a higher-end, more upscale look.
The thickness for an all glass entry is typically 1/2″, and more often than not, the glass color chosen is a "regular" clear glass (as opposed to the more clear "low iron glass" that has minimal green cast, with brand names such as "Starphire ®" or "Diamonte ®", depending on the manufacturer). When looking "head on" at the glass, the green hue that's present in regular clear glass is hardly noticeable. It's not until you look at the edge of the glass, will you see the darker green hue. Since the edges of door glass inserts are hidden, installed inside the frame, and the edges of a frameless, all glass door are only seen when the door is opening or closing, the typical glass choice is "regular" clear.
"Glacier's End" is another Sans Soucie Signature Design. These all glass interior doors feature chiseled irregular edges, multi-layers, and open holes in the glass.
The basic cost of the glass and hardware for frameless, all glass doors will vary depending first on the size of the doors, but also the hardware finish and the type of locking system, the biggest variance is usually in the choice of door pulls. There are many selections of custom door pulls out there, with the most basic being a straight pull. Other popular choices are "S" or curved door pulls, "C" shape pulls, triangular door pulls, etc. all of which will be chosen to coordinate and compliment the carved design.
Since we need thicker glass for sculpture carving, all glass doors are perfect and ready to go for 3-dimensional sculpture carving the design in to!
As with all our etched or frosted glass products, our design styles are limitless, so we guarantee we can create something that will suit your decor! From abstract designs to contemporary, and glass patterns to landscapes, come visit our etched, frosted All Glass, Frameless Doors Gallery and see dozens of examples of both residential and commercial door glass, custom designed for our individual clients.