Chauncey featured in Decorative Glass Magazine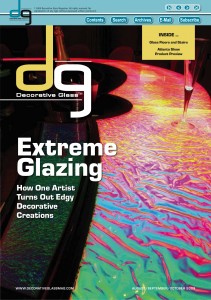 Our very own President and principal artist, Chauncey Gannett was recently selected to be the featured artist inside Decorative Glass Magazine's monthly "Creative Voice" feature.
Chauncey was asked a number of questions about the industry, how he got started working with glass and any areas of special interest he may have. See the full page article on page 20 of the Aug/Sept/Oct digital edition! You can also sign up for a free subscription!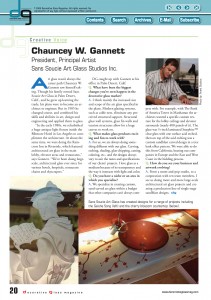 Decorative Glass Magazine is a fairly new publication with its first print in August 2008. Published by Key Communications, Inc., publisher of USGlass magazine, Decorative Glass magazine offers an in-depth look at some of the most influential topics for this industry, helping guide the design and installation communities toward increased use and specification of decorative glass products.
Architects, designers and glass companies of all kinds would find Decorative Glass magazine to be a great resource for the architectural glass market.
This latest edition will be distributed at the upcoming GlassBuild America which starts tomorrow and continues thru October 2, at the Georgia World Congress Center in Atlanta, Georgia.
We are very excited that Chauncey was selected for this feature and are anxious to see the responses we will get from this great exposure!